If you listened to my post-Oktoberfest morning podcast from the Leonardo Hotel in Munich, you know that I was sipping coffee and relaying events from the night before.
I thought you might get a kick out of seeing the set-up I've been using to record during these last two weeks.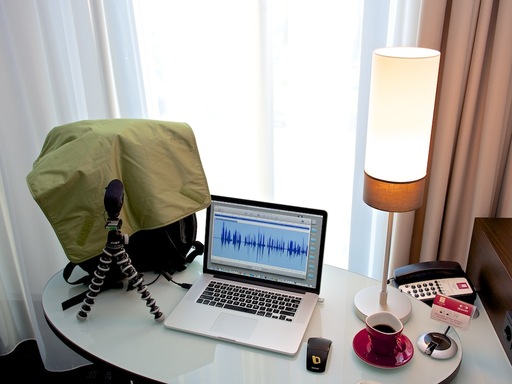 I mount a Rode VideoMic Pro on a Joby GorillaPod and plug it in to my MacBook Pro Retina Display laptop via a Plantronics USB interface. The audio is captured by Audio Hijack Pro and edited (sometimes) in Fission, both by Rogue Amoeba.
I usually set up my Lowepro Fastpack to serve as a sound cushion. It's a simple rig, but it is very portable, and it has enabled me to keep posting to iTunes, even while on the road.
---