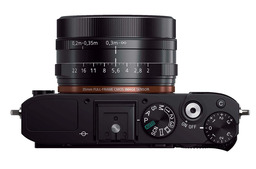 The just-anounced Sony Cyper-shot DSC RX1 is a Nimble Photographer's dream machine. Sony packed a 24 MP full frame CMOS sensor into a gorgeous body with lots of manual controls, then mounted a Carl Zeiss 35mm f/2 lens on the front.
Nice touches include a dedicated aperture ring, five user-customizable buttons, 1.2 million dot LCD, threaded cable release socket in the shutter button, microphone port, full HD movie capture, and multi-functional hot shoe.
There are compromises, however. First, if you want a viewfinder, optical or electronic, that's an accessory. Otherwise you're composing images on the LCD. Next, is price. The base kit estimated cost will be $2,800. Add a handful of accessories, such as the optical viewfinder, lens hood, and thumb grip, and your investment will be close to 4 grand. And finally, it's a fixed lens camera. So there's no changing glass.
All of that being said, I would make room in my camera bag for the Sony RX1 if it were made available to me. The low light performance and depth of field control would be wonderful in many, many situations. In addition to the fact, that it's most likely a pleasure to use.
I'll be sure to get my hands on one in Germany.
---