One of the tests I used to gauge the WiFi capability for the iPad mini is how AirPlay performed when streaming video to an Apple TV. I tested the mini with a variety of apps, including the ABC Player, iTunes, NBC and others. In short, video playback was smooth and the audio was crisp.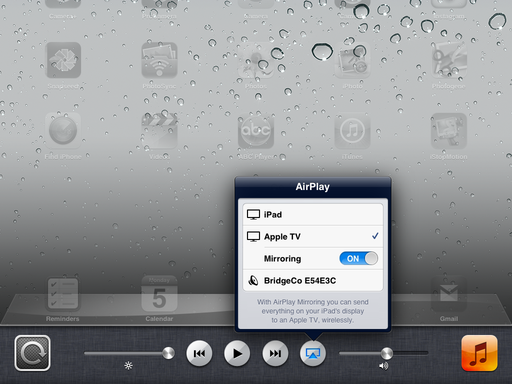 Enable AirPlay by pressing the Home button twice and sliding the Dock to the right.
What's interesting about using AirPlay with a mini, is that it feels like a fancy remote control that has volume adjustment and programming selection. It's much easier to carry around the living room than the full sized iPad, and definitely easier than a laptop.
On the downside, when I watched ABC Player, NBC, and WatchESPN, the video was not full screen on the HDTV. It's kind of a letterbox look. The good news is that the quality was terrific.
In a sense, the iPad mini feels like a mini DVR. Choose the Apps you want and connect to an Apple TV over WiFi... and enjoy.
---