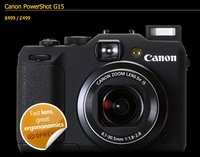 We were just talking about this last night at Thanksgiving with the family. Quite a few folks were asking about compact cameras and which ones I like. Well, DP Review has just made my job, and probably yours too, a lot easier.
In the article, Top 5 Compact Cameras, DP Review lists:
Canon PowerShot G15
Olympus XZ-2
Panasonic Lumix DMC-FZ200
Panasonic Lumix-DMC-ZS20
Sony Cyber-shot RX100
I think these are great choices, especially the first two on the list. And if you have little ones new to your family, make sure you capture those moments. They are so very important.
---