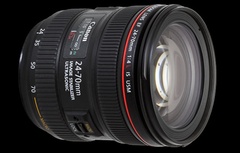 Canon has just announced the Canon EF 24-70mm f/4 L IS USM for $1,500 US, and I have to say, I'm scratching my head.
I can get the Canon 24-105mm f/4L IS EF USM AF Lens for $1,149 that has the same constant aperture, excellent image stabilization, and better reach... for $350 less. With those savings, I can buy another lens for $350. Heck, I can buy an iPad mini.
For the new 24-70mm, it seems as though the built-in macro mode with hybrid IS is enough, in Canon's mind, to charge the extra money. Oh, and why is IS a good idea for this lens, but not the $2,300 Canon EF 24-70mm f/2.8L II USM Zoom Lens?
DP Review says that the new 24-70mm f/4 is designed to go with the Canon EOS 6D Digital Camera. Yeah, that makes sense.
---