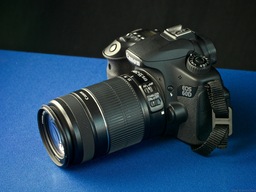 At $255 (or less), the Canon EF-S 55-250mm f/4.0-5.6 IS II lens
combines powerful magnification (88mm-400mm), terrific image quality, four-stop stabilization, and impressive close-up performance in a compact, lightweight design. I've been testing the lens, and here is my hands-on review.
A Consumer Lens by Design
Don't get me wrong, as much as I like this zoom, it's a consumer design through and through. The lens mount is plastic, not metal. The autofocus motor is not the silent USM variety. And the front lens barrel rotates when focusing. But after that, the news is pretty darn good.
Medium shot with the Canon 55-250mm zoom set to 70mm (f/4, 1/25th, ISO 100, hand held). All images captured in RAW with normal post-processing in Aperture 3.4. Photos by Derrick Story.
Close Ups as Well as Scenics
I mounted the zoom on my Canon 60D and shot a variety of images, from very close up to full distance. The autofocusing was snappy and accurate. Image quality was high. Flare was well controlled, as was chromatic aberration.
Move the zoom setting to 250mm to take advantage of the lens close focusing ability - magnification 0.31x at 250mm. (f/6.7, 1/350th, ISO 1000, hand held)
The lens is also compatible with the Canon Extension Tube EF 12 II and EF 25 II for increased magnification. I have the EF 12 II and tested it with the 55-250 zoom. In all honesty, I had a blast with it.
African Daisy photographed with the EF-S 55-250mm zoom and Extension Tube EF 12 II on a Canon 60D - magnification 0.60x at 250mm (f/16, 1/45th, ISO 1600, hand held).
As for scenics and long shots, I was able to get separation between the subject and the background, even though the maximum aperture is f/5.6 at 250mm. This composition had strong backlighting, but I can't detect any noticeable flare.
Autumn color, captured at a distance with the zoom fully extended (f/5.6, 1/350th, ISO 125, hand held).
Who Is this Lens For?
I think the Canon EF-S 55-250mm f/4.0-5.6 IS II lens
is best suited for travel and outdoor photography. By adding the Extension Tube EF 12 II, you have a super light 88-400mm zoom that's also capable of engaging close-up photography. Autofocusing is snappy, image quality is great, and it has a terrific 4-stop IS system.
The f/5.6 maximum aperture nixes this zoom for sports and indoor action. But if you want a feather-light companion for your outdoor adventures, you can't beat the value of this lens at less than $300. I particularly like it with the Canon 60D. I bet it feels pretty good on the Rebels too.
---
The Gift Guide for Photographers features 12 tempting goodies for the photographer in your life. Each item includes a background article about it and a direct link for the best price.