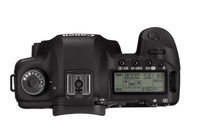 According to this report on Imaging-Resource, Canon isn't quite ready to discontinue the venerable 5D Mark II.
"At this time we have no update regarding the status of the EOS 5D Mark II DSLR camera," a Canon U.S.A. spokesperson told Imaging Resource. "This product has been faithfully selling in the market since 2008 and has helped usher in a new era for Canon with the introduction of the Cinema EOS System." (reported by Imaging-Resource.com)
Canon may not be ready to retire their landmark full frame sensor DSLR, and neither am I. As much as I like their latest offerings in this category, my 5D Mark II is still serving me well. It's my "go to" camera for portrait assignments and high-end product photography. It's mechanically sound, provides amazing image quality, and it's paid for.
I've noticed that the 5D Mark II is currently available at B&H Photo for $1,800 with memory card. It will be interesting to see what happens with the price over the coming months.
In the meantime, mine is charged up and ready for its next assignment.
---