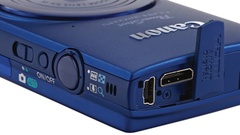 I stumbled across this article, Best Wi-Fi Cameras by Kyle Schurman. To tell the truth, I hadn't realized there were so many models with this capability.
I was familiar with the Canon PowerShot ELPH 320 HS ($199) and of course the Canon 6D ($2,100). But there are plenty of models by Sony, Panasonic, Nikon, and Samsung too.
The WiFi camera I'm looking forward to testing is the Canon PowerShot N ($299) once it's released in April.
In the meantime, Kyle's article will give you a good feel for the WiFi landscape.
---
Join me on my Instagram site as I explore the world of mobile photography.