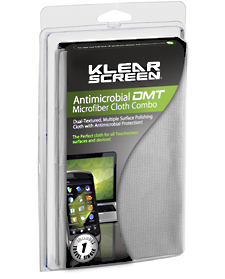 My MacBook Pro Retina Display screen didn't like my existing cleaning cloths. All I would get smear instead of clear. In fact the only thing that worked at all was the small cloth Apple included in the kit. So my quest began for a nice, large microfiber cloth that worked on all of my Retina displays, including the MacBook Pro.
My salvation was realized at CES. Over at the Klear Screen booth they introduced me to the Klear Screen DMT Antimicrobial Microfiber Cloth for $9.95. Unlike my existing Klear Screen cloths, this one has two distinct textures. That extra "tooth" is what I needed to get the gunk off my super glossy MacBook Pro screen. And the big size is much easier to work with than the small Apple cleaning cloth.
The DMT works great on the iPad and iPhone too. As a bonus, the antimicrobial treated cloth is designed to eliminate up to 99 percent of the bacteria inside the cloth after cleaning a surface. I'll take it!
I keep the Klear Screen DMT Microfiber Cloth in my backpack and now have shiny, clean screens on all my devices. It's the small things in life that make it better.
---