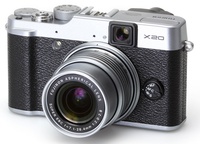 Fujifilm has tempted me since initially releasing the X10. Now they've done it again with the X20.
DPReview just published their Fujifilm X20 hands-on preview, and it looks like my temptation will become even more intense.
I spent some time with the Fujifilm X20 at CES and was reminded of just how handsome and capable this compact camera is. Inside its die-cast magnesium body is a new 12MP 2/3" X-Trans CMOS II sensor coupled to a Fujinon 28-112mm f/2-2.8 zoom lens. Fuji's sensor is larger than much of its competition, including the Canon G15 and Panasonic LX7 that both use 1/1.7" chips.
In terms of use, the X20 now features an advanced optical zooming viewfinder that has an information overlay so you can see the current exposure settings while composing the shot. This is well implemented, and a welcome upgrade to the x10's viewfinder, which was good to begin with.
But what really brings all of these specs to life is the look and feel of the camera. It is flat-out handsome, and feels solid and competent in the hand. This quality comes at a price. You can preorder either the black, or the new silver and black model pictured here, for $599 at B&H Photo. Considering the specs I mentioned earlier, plus the Intelligent Hybrid AF System, full HD 1080 video at 60fps, RAW capture, built-in film filters, and more, this camera is a quality investment for photographers looking for a capable all-in-one camera to complement their DSLR kit.
---