I created this photo sequence of Blake Griffin shooting a free throw using the "Sequence" preset in the print dialog for Aperture 3.4. It's an easy way to create these types of images.
Blake Griffin shooting a free throw. Image by Derrick Story
To create a sequence, select three photos in Aperture, then go to File > Print Images. When the print dialog box opens, select the "Sequence" preset. Your three photos will be placed as slices on a single sheet. You can fine tune their individual positions by clicking and dragging on each slice.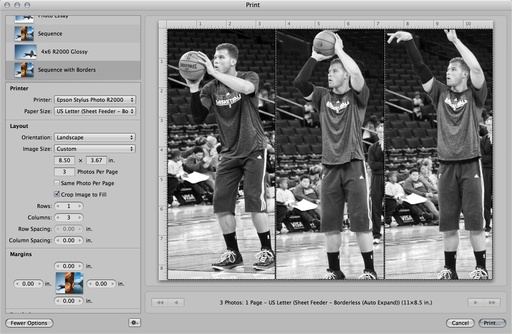 Click the "More Options" button in the lower left corner to reveal controls to create borders, add slices, and more. Once you have the image to your liking, click the Print button. In the next dialog, click on the PDF button in the lower left corner. Choose "Open PDF in Preview." Here you can export the image as a Jpeg.
The entire process just takes a minute or so, but the results are terrific!
Aperture Tips and Techniques
To learn more about Aperture, check out my Aperture 3.3 Essential Training (2012) on lynda.com. Also, take a look at our Aperture 3 Learning Center. Tons of free content about how to get the most out of Aperture.
---
The Digital Story on Facebook -- discussion, outstanding images from the TDS community, and inside information. Join our celebration of great photography!
---