You can create attractive portfolio pages and share them wirelessly with others around you -- all served securely from your digital camera. Sounds crazy, right? It isn't.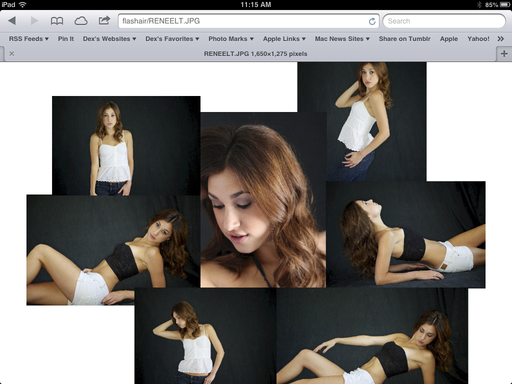 Portfolio page served from an Olympus OM-D to an iPad mini using the Toshiba FlashAir memory card.
In short, what I do is create the portfolio pages using Light Table in Aperture 3.4, then write those files to a Toshiba FlashAir Wireless SD Card
($55). After that, all I have to do is insert the card into my Olympus OM-D and turn on the camera.
If I want to display this portfolio page on my iPad, or someone else's iPad, I have them log on to my FlashAir card and it will serve the page wirelessly to their device. If they want a copy of it, they can save the page to their Camera Roll.
This is all made possible by the FlashAir card's ability to create its own secure web server. I talk about how this works on this week's podcast, Ingenious Toshiba FlashAir. Not only can this wireless-capable SD card share images from your camera to computers and mobile devices, it can actually serve web pages, PDFs, and other content.
I created the portfolio page in Aperture 3.4 using the Light Table tool. Once the page was designed, I saved the Light Table as a PDF, then converted it to a JPEG to reduce file size.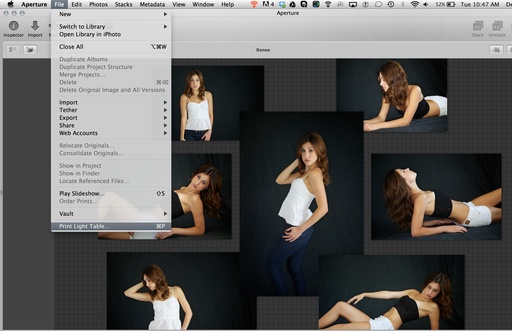 I created the Light Table in Aperture 3.4, then saved it as a PDF using the Print command.
Once I have the JPEG version of the portfolio page, I copy it to the FlashAir SD card via drag and drop on my Mac. I then eject the card from the computer, insert it into my OM-D, and turn on the camera.
As soon as the camera is powered up, it turns on the web server in the Toshiba FlashAir card. Now, all I have to do is open Settings on the iPad, choose the FlashAir WiFi Network, and direct my web browser to http://flashair/
I can share pictures on the camera, plus any additional files that I've added to the card. It's secured by WPA2 Personal security. So only those I give a password to can access the content on the FlashAir card.
It's the perfect combination of geeky technical plus design using the elegant Light Table tool in Aperture. And best of all... it' easy!
Aperture Tips and Techniques
To learn more about Aperture, including how to build Light Tables, check out my Aperture 3.3 Essential Training (2012) on lynda.com. Also, take a look at our Aperture 3 Learning Center. Tons of free content about how to get the most out of Aperture.