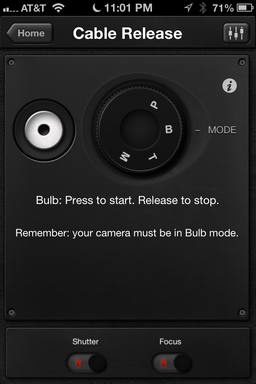 A common TDS Podcast listener question lately has been, "What type of cable release do you use for your Olympus OM-D E-M5? The answer is: Triggertrap Mobile for my iPhone.
Available in iTunes for free (as well as Google Play for Android), Triggertrap connects to the OM-D via a dongle designed for the camera that can be purchased online for about $30. Once you've made the connection, you can control the OM-D with the iPhone.
There are more than 15 different modes for the app, everything from a standard remote release to sound trigger and more. I've used Triggertrap with good success for the Live Time mode on the OM-D. It's a terrific app, and the dongle takes up very little room in your bag.
---
iPad for Digital Photographers
If you love mobile photography like I do, then you'll enjoy iPad for Digital Photographers
-- now available in print, Kindle, and iBooks versions.
Want to Comment on this Post?
You can share your thoughts at the TDS Facebook page, where I'll post this story for discussion.