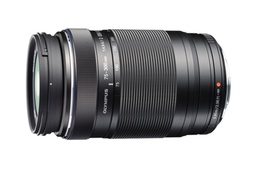 How do you make a terrific lens look even better? Lower the price to $499.
You can now save $50 instantly (no rebate nonsense) on the excellent Olympus M.ZUIKO DIGITAL ED 75-300mm f/4.8-6.7 II Lens. This is the recently redesigned zoom that fared very well in its DxO Mark test and has been popular with TDS readers.
I just purchased this zoom for an upcoming shoot at Safari West as part of the TDS Fall Color with Safari West Workshop in October. I'll have time to test it before the big event.
The Olympus 75-300mm zoom is a solid example of how you can save bulk and weight with Micro Four Thirds photography. The effective view is 150mm-600mm, yet it's less than 5" long and weighs less than 15 ounces. And the $499 price tag is icing on the cake.
Want to Know What's in My Camera Bag?
Take a look at the My Gear page on TDS.
---
Want to Comment on this Post?
You can share your thoughts at the TDS Facebook page, where I'll post this story for discussion.