On the third day of our exploring Havana and its surrounding area, a comrade said to me, "I'm envious of your very nimble camera kit." I replied, "Thanks. It took me a month to perfect."
Before departing for the Caribbean, I published What's in my Bag for Cuba, detailing the gear that I had settled on for the trip. The plan was to use a Lowepro Pro Tactic 350AW backpack for the "A to B" travel, such as from Miami to Havana, then take out the gear I needed and tour using the lightweight shoulder bag that I had stashed in the suitcase. So, how did the plan work?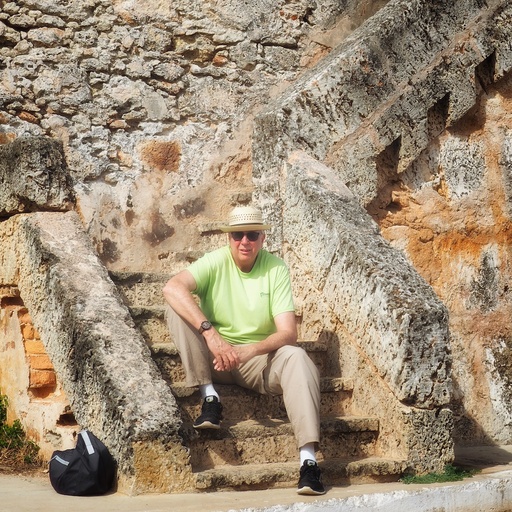 "Derrick Story in Cojimar Cuba" - I'm sitting on the steps of the fort in Cojimar with my shoulder bag on the ground. I was inspired while working in Hemingway's Cuba, when he conceived "The Old Man and the Sea."
In short, the kit worked great.
I built the kit around the Olympus OM-D E-M10, using compact zoom lenses during the day, such as the Olympus 14-42mm f3.5-5.6 EZ and the Panasonic 35-100mm f/4-5.6, then relied on a couple of prime optics at night, my favorite being the Olympus 17mm f1.8. I couldn't be happier with the results.
Other key accessories included the Lexar Professional 2000x 64GB SDXC UHS-II Card, which performed fantastic for my RAW+Jpeg stills and full HD movies. (Use good, reliable memory, especially for travel.) For the uploads, I inserted the Lexar card into the bundled high speed reader for blazingly fast transfer of these large files to my MacBook Pro 13" Retina Display laptop.
Along with my photo kit, the shoulder bag had a lightweight rain jacket, water, sunblock, first aid kit, and a few snacks. Thanks to this nimbleosity, I was able to work from early in the morning to late at night. My shoulders and back feel great!
As for my friend in Cuba, he's now a convert.
---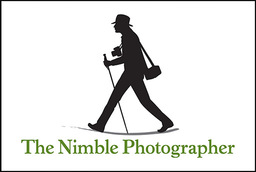 This kit has a high Nimbleosity Rating. What does that mean? You can learn about Nimbleosity and more by visiting TheNimblePhotographer.com.
---
Recover Photos from Memory Cards
What should you do (and more importantly not do) if something goes wrong with your camera's memory card? Help is on the way! Check out my lynda.com title, Recovering Photos from Memory Cards, and save those valuable pictures.
Want to Comment on this Post?
You can share your thoughts at the TDS Facebook page, where I'll post this story for discussion.