This is The Digital Story Podcast #505, Nov. 10, 2015. Today's theme is "Getting Our House in Order." I'm Derrick Story.
Opening Monologue
As we settle in to the new format for the show, I have to say that I'm really excited about our momentum going in to 2016. Participation is at an all time high, the photo industry is showing signs of creativity, and we're going to get some stuff done.
Getting the House in Order
We have roughly 6 weeks before the end of 2015. Some of that will be consumed by the holidays. What I'm proposing is that we use this time to get ourselves organized so we can have a solid start to 2016. Here are some of the items to consider.
Equipment Inventory - have you logged your purchases for 2015?
Hard Drive Evaluation. What is the state of your archiving system, and do you have the hardware to match your needs?
Photo Management Software. Would be nice to start our the New Year with the system you're going to rely on for 2016. Are you in good shape with that?
I talk about these in today's first story.
In the News
How to create a mirror image photo effect in-camera. I found this interesting post on Digital Camera World where they show you how to duplicate a cityscape and create a mirror image effect in-camera using little more than plexiglas, perspective, and precision. The result is a water-like reflection... without the water.
In other news, DP Review's 2015 Roundup of Fixed Prime Lens Cameras. The included on their list: (can you guess?)
Leica Q (Typ 116)
Sony Cyber-shot DSC-RX1R II
Fujifilm FinePix X100T
Ricoh GR II
Sigma Quattro series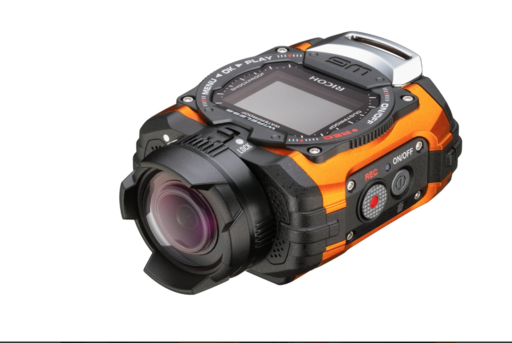 Gear We Like
The Ricoh WG-M1 Waterproof Action Video Camera with 1.5-Inch LCD ($133) initially caught my eye with its intense rugged looks. But the features are noteworthy too - Wi-Fi enabled, waterproof to an impressive depth of 32 feet without requiring a protective housing, shock-resistant against a fall from 6 feet, and cold-resistant to temperatures as low as -10 Degree C.
With its ultra-wide-angle lens, this rugged little camera captures dynamic Full HD movies with a realistic sense of depth. The WG-M1 provides a host of advantageous features including multitasking that allows the user to check real-time images during both still and movie recording, and a 1.5-inch color LCD monitor. Approximately 14.0 effective megapixels captures high-resolution still images, while its high-speed, continuous shooting capability records subjects at a speed of roughly 10 images per second.
Brighten Up Your Store Front
The folks over at Zenfolio have added some new features that will help you better serve your customers. If you're a freelance photographer who wants present a professional customer experience, check out these additions to the comprehensive Zenfolio experience.
Email Templates - Customize your email templates for group, gallery, collection and event invitations to make sending personalized invitations a snap. You can also personalize gallery expiration emails and create your own custom templates to use for any kind of client communication. To change a system template or create a new one, go to Visitors from Edit View and look for the new Email Templates page.

One-Click Price Lists - Price lists are easier than ever to create now that we do the work for you! Your new price list comes with the most popular products pre-selected. You can start bringing in sales in 2 clicks and with no hassle. You can of course still easily add or remove products and adjust each product pricing to suit your needs.

Shopping Improvements - We've made the shopping experience more visual, sleek, and simpler to navigate. Large preview images of your products add more detail and polish to the Shop, and the new sidebar makes it easier for your clients to browse products with fewer clicks. These improvements will help your customers find the products they want quickly and customize and buy them with ease.
Member Quote of the Week
Intelligent comments culled from The Digital Story Facebook page.
In regard to my post, Aerial Photography Without a Drone, David Michael Rogers writes, "I used a similar setup to investigate some squirrels who'd taken up residence in a brick column in my building. I couldn't see exactly where they were getting in and out, so I stuck the Air on a monopod and poked it up into the rafters. Got a somewhat oof shot of a squirrel sticking her nose up out of the access they'd made. I have an inexpensive monopod that doesn't have a quarter-twenty at both ends. But I can use a small Pedco Ultrapod (the tiny one), and the velcro strap wraps just tightly enough around the bottom extension that I can use the full length of the monopod."
Post your thoughts on our Facebook page. Believe me, I read them.
Software Download
Pixelmator Rewritten, Now OS X Photo Extension Too. Pixelmator 3.4 was rewritten for Mac OS X El Capitan and includes support for multitasking via Split View and a Photos Extension with powerful Distort tools. This is the fifth editing extension for Photos for OS X. Pixelmator 3.4 is available in the Mac App Store for $29.99 and is compatible with OS X 10.9.5 or later and a 64-bit processor. Via TDS.
Cash In on Greeting Cards
Red River Paper posts in their blog: "The Greeting Card Association estimates that more than 7 billion paper cards were sold last year at prices ranging from $2 to $10 and that women accounted for 80% of the sales. Despite the e-card phenomenon, nine out of ten people still prefer receiving (and keeping) a card they can display- on a desk, bedside table, or taped to the fridge." Red River Paper is the longest running sponsor of The Digital Story.
Found in the Bottom of the Bag
I've added the Nimble Ultralight Shoulder Bag to the Nimble Photographer Store. This is a limited edition. The Eastern Sierra Fall Color Workshop holds the top spot on the TDS 2016 Workshops Reserve List. And if you plan on ordering through B&H Photo or Amazon, please stop by the TDS site first, click on their respective ad tile, then place your order. That extra step helps support the site.
See you next week!
Download the Show
In addition to subscribing in iTunes, you can also download the podcast file here (31 minutes). You can support this podcast by purchasing the TDS iPhone App for only $2.99 from the Apple App Store.
More Ways to Participate
Want to share photos and talk with other members in our virtual camera club? Check out our Flickr Public Group. And from those images, I choose the TDS Member Photo of the Day.
Podcast Sponsors
lynda.com - Learn lighting, portraiture, Photoshop skills, and more from expert-taught videos at lynda.com/thedigitalstory.
Red River Paper -- Keep up with the world of inkjet printing, and win free paper, by liking Red River Paper on Facebook.
Zenfolio If you want your site to look as good as your photos, visit www.zenfolio.com today.
SizzlPix! - New 5k Ultra High Definition SizzlPix output for your photography. You've never seen your imagery look so good. SizzlPix.com.
Want to Comment on this Post?
You can share your thoughts at the TDS Facebook page, where I'll post this story for discussion.