This is The Digital Story Podcast 512, Dec. 29, 2015. Today's theme is "My Blunders in 2015." I'm Derrick Story.
Opening Monologue
There's a lot of looking back this time of year. The highlights of 2015, the best of the best, and various great accomplishments. But I doubt that you would be that interested in the shining moments of my 2015. Plus, a lot of them are personal anyway.
But, how about those blunders? Now that's something that we all can learn from, right? And the theme for this week's show focuses on three business missteps that I made over the last 12 months. Now, that sounds intriguing, doesn't it?
My 2015 Miscalculations
So, I made 3 business choices this year that just didn't pan out. I'll tell you the story of each during the feature story of this week's episode.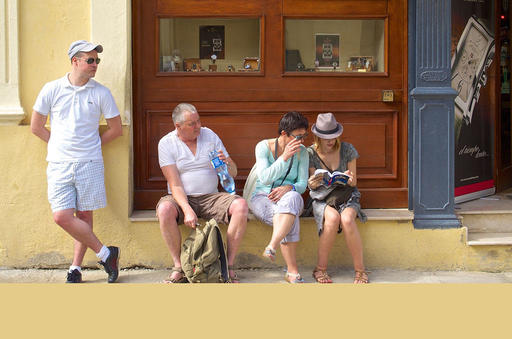 Who Cares about Cuba? - My takeaway: A lot of people don't care about travel to exotic locations, especially those with a checkered past in terms of U.S. relations.
Don't Reinvent the Wedding - My takeaway: Apparently weddings don't need to be reinvented. Everyone seems fine with the agonizing process of hiring a photographer. And keep with warm, fuzzy names for these types of services.
No New Podcast After All - My takeaway: In all honesty, it's tough to depend on others who don't care about your art as much as you do. Give your power to someone else, and it's unlikely that you'll be happy with the outcome.
In the News
The First Leaked Photos of the Fujifilm X-Pro2 - covered by Petapixel
Fujifilm helped kick off the mirrorless camera revolution back in 2012 by announcing the powerful retro-styled X-Pro1 camera. Now it appears that a follow-up will soon be upon us: the first official photos of the new Fujifilm X-Pro2 have leaked. The camera will reportedly be officially announced on January 15th, 2016.
Virtual Matte Frames Directly from Your Printer
I've had a number of portrait shoots over the last couple weeks, and I've been printing out some of my favorites on Aurora Fine Art Natural from Red River Paper. And I've been creating custom custom mattes for these portraits in ImageFramer. And I can't describe how stunning they look, right out of the printer. I do my best to describe in this segment of today's show.
Jacob has set up an ImageFramer Landing Page specifically for TDS listeners, with sweet discounts on the 3 different versions of the app. Please go over and take a look.
Products We Love: Lightning to SD Card Camera Reader
Thanks to a recent iOS 9.2 update, we can now use the Lightning to SD Card Camera Reader ($29) with our iPhones. And how sweet it is! This is a welcome feature for those of us who shoot with older cameras, such as my Fujifilm X20 that doesn't have WiFi for quick image transfer on the go. I've gone into more detail about this process in my article, How to Upload SD Card Pictures to Your iPhone.
Member Quotes of the Week
Intelligent comments culled from The Digital Story Facebook page.
In regard to Friday's Facebook Post: "Merry Christmas to All Who Celebrate! And don't forget to take the group shot...," we had some terrific comments that I want to share it with you now.
Brenda wrote: "Always good when the photographer gets in the image. Merry Christmas Derrick. Looking forward to another year listening to your podcasts!"
Preston added: "Merry Christmas Mr. Story! You are photography's George Bailey!"
And Mike finished with: "Merry Christmas Derrick Story. Hope you had a wonderful holiday and yes, no one at my place touches a gift till we get the family pic."
Post your thoughts on our Facebook page. Believe me, I read them.
Print those Holiday Group Shots
Speaking of group shots, if you really want to preserve your memories you need to make a print. Your kids and grandkids will appreciate the effort. A thought from Red River Paper
Software Download - DxO Optics Pro for Photos
A new editing extension for Photos for OS X, DxO Optics Pro for Photos uses modules for many of the common camera/lens combinations, but presents the tools in a simplified format that's easy to use. DxO Optics Pro for Photos is currently on sale for $9.99 in the Mac App Store. You'll need Mac OS X El Capitan and a 64-bit processor to run either app.
See you next week!
More Ways to Participate
Want to share photos and talk with other members in our virtual camera club? Check out our Flickr Public Group. And from those images, I choose the TDS Member Photo of the Day.
Podcast Sponsors
lynda.com - Learn lighting, portraiture, Photoshop skills, and more from expert-taught videos at lynda.com/thedigitalstory.
Red River Paper -- Keep up with the world of inkjet printing, and win free paper, by liking Red River Paper on Facebook.
ImageFramer Take your photos to the next level with ImageFramer. Visit www.apparentsoft.com today.
MacPaw Creators of CleanMyMac 3 and other great software for Apple computers. Visit www.macpaw.com today.
The Nimbleosity Report
Do you want to keep up with the best content from The Digital Story and The Nimble Photographer? Sign up for The Nimbleosity Report, and receive highlights twice-a-month in a single page newsletter. Be a part of our community!
Want to Comment on this Post?
You can share your thoughts at the TDS Facebook page, where I'll post this story for discussion.