This is The Digital Story Podcast #533, May 24, 2016. Today's theme is "7 Lenses for 7 Years." I'm Derrick Story.
Opening Monologue
In the Spring of 2009, I joined a handful of photographers in New York City to test a new type of camera: the Olympus PEN E-P1. It was the first mirrorless interchangeable lens body I'd ever seen, and I knew then that this camera was the beginning of something big. Now, seven years later, mirrorless photography has earned a rightful place among the most popular cameras of 2016. And to celebrate this success, I'm going to discuss seven of my favorite mirrorless lenses on today's show.
7 Lenses for 7 Years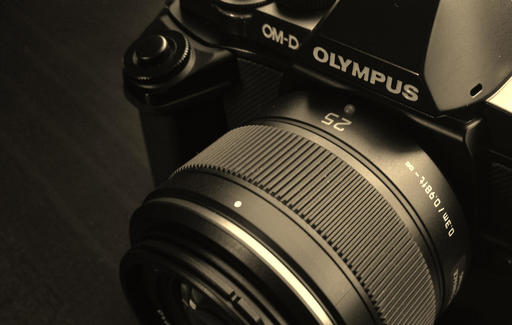 I knew I was going to like mirrorless cameras, but what has surprised me is how good the lenses are. Here are seven of my favorites.
So, seven years ago it was the nimble camera bodies that hooked me. But the amazing catalog of lenses is what's kept me happy. And as we know, it's the optics that we end up treasuring for years.
In the News
How Drones Are Being Used to Help Stop Poaching as reported by fStoppers.
Tsavo, a region in Kenya, contains the world's largest elephant population, and thus, it is a prime target both for poachers and conservationists. Nonetheless, policing the 8,150-square-mile area is a daunting task. With some clever math and the help of drones, though, Penn State University researchers are helping to make that task much easier.
Once these areas were identified, drones could be programmed to fly mathematically efficient paths to monitor the areas. This not only allowed for more effective patrol of the areas, but it also reduced the risk to conservationists by preventing them from having to physically patrol the areas and risk confrontation with poachers. It's also far cheaper than using helicopters.
Shop Talk
Comments from members of our community posted on theTDS Facebook Page. Here's a thought from last week's Finding Your Place podcast:
Christopher wrote: "Really appreciated this episode Derrick. Your experience clearly touched on something many of us resonate with. Listening to some of your backstory was truly fascinating for me. I'm currently working in the marketing/communication arm of a healthcare system in Portland, and using that opportunity to hone my storytelling and creative skills. I've even been able to start a weekly podcast for our company. As you described, I'm not completely sold that this is the thing I want to do for the rest of my life (though the safety net and benefits of a full time job are very nice), but I enjoy coming to work and knowing that at least part of my day will be spent using and developing skills in the things I'm passionate about. Hopefully I'll be ready when the next opportunity comes along."
Thanks to everyone who contributed a comment. I so enjoy reading what you have to say.
Zeiss 50mm SLR Lens on Mirrorless for Silky Macros
-
Talk about a beautiful convergence of the analog and digital worlds. For my morning photo shoot, I mounted a Carl Zeiss 50mm f/1.4 (Contax/Yashica mount) on to an Olympus OM-D E-M10 Mark II and added a Contax 13mm close-up ring in-between to photograph flowers around my studio. You can read more about it here.
A Word About Buying New Gear
If you plan on making an online purchase, please consider clicking on our Amazon Link or the B&H Photo Link first, then navigation to the item you're looking for. By doing so, you help support this podcast, and it doesn't cost you a dime. Much thanks!
Updates and Such
Coming Soon: The Apple Photos Book for Photographers
I've been working on a guide to Photos for OS X that's written for photographers who want to use this application at a high level. I cover workflow, iCloud integration, and editing... at the enthusiast level.
We're releasing the eBook version soon, then will go to print after Apple announces its updates to the app at WWDC. This is an exciting, ongoing project that I think you'll want to be a part of. And you can join me every step of the way via the signup page we've created. This is going to be fun...
And finally, be sure to visit our friends at Red River Paper for all of your inkjet supply needs.
See you next week!
More Ways to Participate
Want to share photos and talk with other members in our virtual camera club? Check out our Flickr Public Group. And from those images, I choose the TDS Member Photo of the Day.
Podcast Sponsors
Red River Paper - Keep up with the world of inkjet printing, and win free paper, by liking Red River Paper on Facebook.
ImageFramer Take your photos to the next level with ImageFramer. Visit www.apparentsoft.com today.
MacPaw Creators of CleanMyMac 3 and other great software for Apple computers. Visit www.macpaw.com today.
The Nimbleosity Report
Do you want to keep up with the best content from The Digital Story and The Nimble Photographer? Sign up for The Nimbleosity Report, and receive highlights twice-a-month in a single page newsletter. Be a part of our community!
Want to Comment on this Post?
You can share your thoughts at the TDS Facebook page, where I'll post this story for discussion.