When you buy the budget kit for the DJI Spark, you don't get anything by way of accessories. But after a few weeks of use, it's clear that you might want to pony up a few more dollars to protect your existing investment. Here are three things that I highly recommend.
Protect the Lens and Gimbal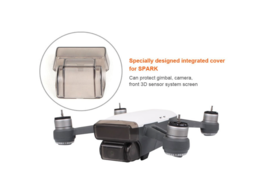 I'm fascinated with the robotic eye known as the gimbal with camera lens. It's exposed, however, during transport, and I was becoming increasingly uncomfortable with the situation. I don't like to baby my gear, but I do like to protect it.
My friend, Mike Boening, turned me on to the Bestmaple Camera Front 3D Sensor System Screen Cover for DJI SPARK for $9.99. I've seen a few other brands for even cheaper, but the Bestmaple is the one that I've personally tested.
It fits snugly over the gimbal and IR sensor, and it protects both components. All you have to do is remember to take it off before flight.
Nimble Case for Your Spark and Gimbal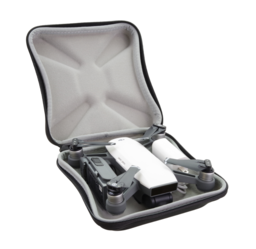 I think of the Spark as a second camera, so I carry it in my everyday bag. But to save space, I wanted a case for it that was as svelt as possible, yet protected the aircraft. I learned about the PolarPro Soft Case for $24.99 and ordered it directly from PolarPro.
They did a great job of handing the purchase, and a few days later I had the molded soft case that fit perfectly in my camera bag, yet protected the Spark. It even has room for an extra battery and the charger.
The PolarPro case is well designed, and it's the perfect solution for nimble pilots.
Yes, You Do Need an Extra Battery
I got by just fine with the single battery that came with the Spark, at least for the first few weeks. But as I became more comfortable flying, I want longer sessions in the air. Fortunately, the official DJI Spark Intelligent Battery is an affordable $49. Having a second fuel cell has extended the usefulness of the aircraft. And it fits perfectly in the PolarPro case.
Total investment for all three of these accessories is less than $100. And for me, they have been worth every penny.
More About the DJI Spark
Exporting a Single Frame from Video
You can share your thoughts at the TDS Facebook page, where I'll post this story for discussion.