Former Aperture users... don't delete the app quite yet. I have a helpful, practical purpose for keeping it on your hard drive: to add IPTC metadata (semi-automatically) to your pictures.
I'm using the Automator/Aperture tandem to include my copyright and author info with images that may fall outside my normal workflow, and don't have camera functions to include them. I've been adding data to iPhone images and those from the Fujifilm XF10. Here's how it works.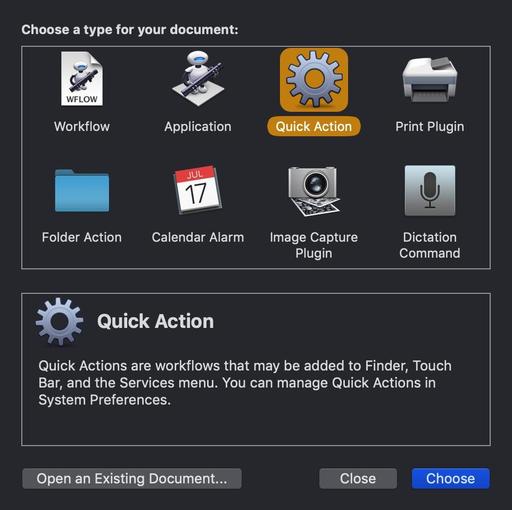 Start with an Automator Quick Action.
First you have to create an Automator Quick Action. I outlined the steps on how to do this in the article, Create Your Own Quick Action Shortcuts for Photo Tasks. This time, however, you're going to build a Quick Action using a series of short AppleScripts written for Aperture. Here's the recipe.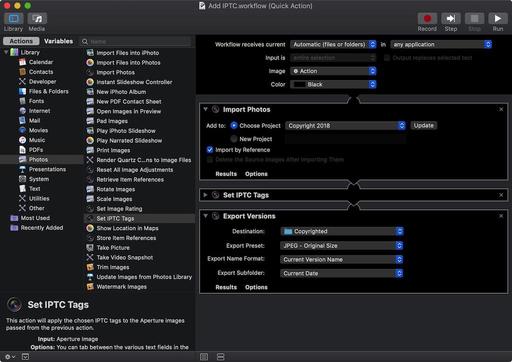 The actions are in this order: Import Photos, Set IPTC Tags, Export Versions. When I add the actual fields to the Automator Action, I keep it simple. Study the screenshots carefully to customize your own workflow. Here are the actual IPTC tags that I include.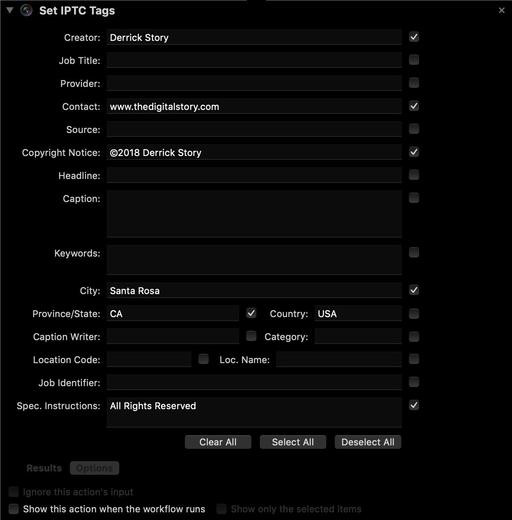 Once you have everything completed, Save the Quick Action. Automator will place it in the proper Services folder so it's available when working at the Finder level in macOS Mojave. Now it's time to play.
Make sure Aperture is open and running in the background. I would also create a new folder on your Desktop to receive the copyrighted images.
Copy a small batch of images to a folder on your Desktop. Open them in Mojave's Finder using Gallery View. You can peruse the current EXIF data for the shots. Now let's add the IPTC info. Select them all (CMD-A), then choose your new Quick Action from the gear menu. Automator will go to work.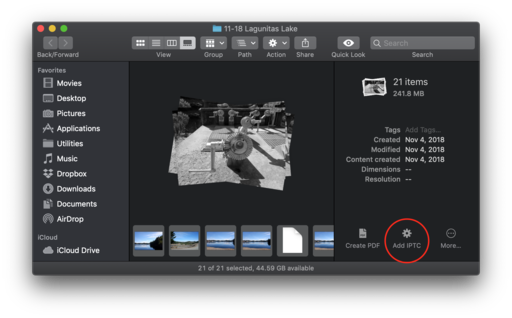 In the background, Automator will run all the pictures through Aperture, add the data you want, then place them in the folder you selected on the Desktop. It will take a few seconds per image to process. One it's finished, all of your copyrighted images should be in their new folder. You can check one by opening it in Preview and reading the Info panel.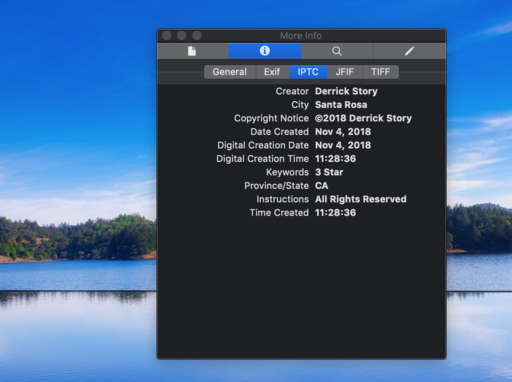 I imported these IPTC pictures into Photos for macOS Mojave, worked with them, then exported them out of the app. All of my metadata stuck with the pictures.
There are lots of individual uses for this workflow. It just depends on the data you add to the Automator Action. Give it a try and see what you come up with.
The Apple Photos Book for Photographers, 2nd Edition
Updated for macOS High Sierra, the The Apple Photos Book for Photographers, 2nd Ed.
provides you with the latest tips, techniques, and workflows for Apple's photo management and editing application. Get your copy today!
You can share your thoughts at the TDS Facebook page, where I'll post this story for discussion.