I was thinking about last week's podcast during a morning shoot on Las Vegas Blvd., and how reflections could be used creatively.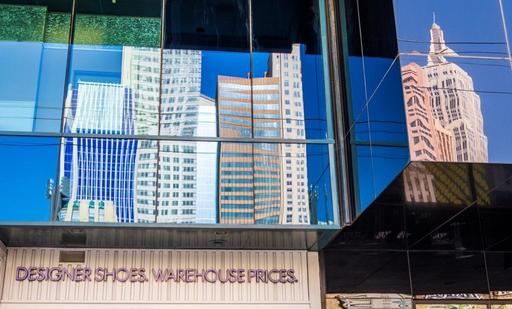 "Las Vegas Reflection" - Canon G5X Mark II - Photo by Derrick Story.
It began when I spotted a group of buildings across the street reflected in a store window. I thought the elements worked well together, creating an interesting juxtaposition of shape and color. This motivated me to seek out more compositions.
"Woman with Yellow Hair" - Canon G5X Mark II - Photo by Derrick Story.
One of the things that I talked about in the podcast was how two worlds could be captured at once using reflections. In the "Woman with Yellow Hair" image, we have the one group going in the doors while a shadowy stranger approaches in the reflection. They work nice together, and I think all of the elements are more interesting as a group than just any single person.
Then there are more active reflections, where I have both versions of the subject in the same frame.
"Man in Red Shirt" - Canon G5X Mark II - Photo by Derrick Story.
In the "Man with Red Shirt" photo, it appears that he is admiring himself in the glass. I think he's merely watching the street below, but I don't know for sure... and that interests me. Plus we have the other group visible in the glass but not in reality.
And finally, I combine two "mistakes" in the "Tourist Pointing" photograph. I have the reflection of the man in the white shirt, and just his physical hand on the right edge, adding "off-framing" to the mix. Viewers may or may not spot his hand, and that's part of the fun.
"Tourist Pointing" - Canon G5X Mark II - Photo by Derrick Story.
I captured a variety of images that hot morning in Las Vegas, many of which I like. And the reflections series definitely added some variety to the mix.
You can share your thoughts at the TDS Facebook page, where I'll post this story for discussion.