This is The Digital Story Podcast #701, August 20, 2019. Today's theme is "The Art of Mistakes and Miscalculations." I'm Derrick Story.
Opening Monologue
Mistakes are sometimes in the eye of the beholder. An off-center subject may be viewed by one person as poor composition and seen as dynamic by another. After visiting the exhibition, Don't! Photography and the Art of Mistakes at SF MOMA, I have 5 techniques that can be dazzling to some folks and head-scratching to others. Tune in and see which camp you fall in to.
The Art of Mistakes and Miscalculations
I want to start by reading you the opening text to the exhibit at SF MOMA, because I think it frames this conversation well.
In the late 19th and early 20th centuries, proscriptive texts by self-proclaimed photography experts proliferated in amateur manuals and periodicals. The next generation saw the rise of photographers who challenged these rules and strictures.
Pairing modernist images by artists including Man Ray, Florence Henri, and Lisette Model with historical documents, this exhibition examines the shifting definitions of "good" and "bad" photography, while considering how tastes evolved during this transformative period for the medium.
BTW: This show runs through Dec. 1. So if you're in San Francisco, I highly recommend visiting MOMA and seeing it for yourself.
So here are five of these "mistakes" that could turn into real works of art.
5 Techniques that Could be Wonderful
Off-Framing - In the early days of photography, tripods were required because of the low sensitivity of photo medium. Compositions tended to squared up and realistic. But as film speeds increased and handheld photography became more common, so did composing mistakes and victories. One of my favorites is the 1956 image, "Little Man, Stepping Off a Cable Car" by Dorothea Lang.

Reflections - Shop windows, for example, can be perplexing for photographers. If you shoot straight on, you see yourself in the picture. From an angle, the surrounding environment appears in the shot. Many books recommended avoiding this situation all together. That is until more adventurous photographers began to integrate these reflections into their shots showing dual realities at once.

Motion Blur - Standard advice to prevent motion blur was to use faster film, adequate lighting, and increase the shutter speed. But later artists discovered that blur could actually convey motion or indicate speed. And to even get more creative, a blurred moving face could convey an emotional state.

Distortion - Photographers were instructed to not position an arm, hand, or leg closer to the lens than the other parts of the body because distortion would elongate or enlarge that body part. But then more adventurous artists discovered that they could create abstractions, similar to modern art techniques, that departed from making photographs always look realistic.

Lens Flare - Photographers were cautioned about pointing their lenses in the direction of strong light sources, such as a bright lamp or the sun, because it increased the chances of lens flare. But because of its unpredictable nature, art photographers embraced the technique and were eager to see how the effects of flare impacted their compositions.
Photography is an ever-evolving medium. And the rules are seldom adhered to for very long. And to be honest, sometimes images that feature these "mistakes" are far more interesting than the "perfect" ones.
New Course Offering: Podcast Skills
A course on podcasting has been the number 1 request for new workshop topics. And after some time thinking about the best way to make this happen, I've come up with a one day skills course that you can attend from home, or wherever you have an Internet connection.
This one day event will cover the following topics:
Recording Hardware
Editing Software
Concept and Creation
Essential Storytelling Techniques
Show Notes
Syndication and RSS Feeds
Getting Your Show on Apple Podcasts, Google Play Music, Stitcher, and More
Adding Music to Your Show (and Where to Get It)
Editing Workflow
Promoting Your Podcast
The Ins and Outs of Advertising and Sponsorships
The topics will be divided into modules and presented live, and they will be recorded as movies as well. Each participant will receive the catalog of HD movies from the day as part of their tuition.
The course will include insider tips, best practice techniques, and multiple Q&A sessions. Each participant is also entitled to one follow up one-on-one session after the workshop to address questions unique to his or her goals.
The live course, set of recorded videos, and the follow up one-on-one session costs only $249. Inner Circle Members get a 10 percent discount on tuition.
The first two course dates are scheduled for October 12 and November 9, 2019. Participation is limited to 10 people per course, first come, first served. Registration is open now at How Do You Listen to Your Podcasts?. Pop over and let us know if you're a Spotify, Overcast, Apple Podcasts, or fan of some other platform for listening to your shows. Plus, it's fun to see what others are saying.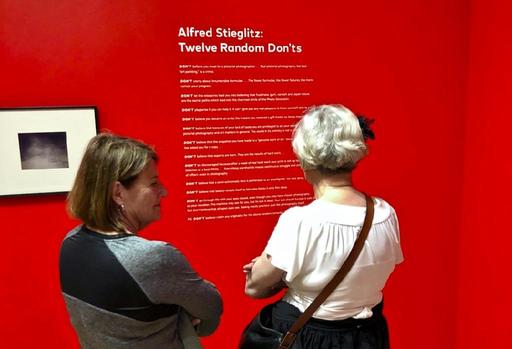 Alfred Stieglitz: 5 Random Don'ts
From the SF MOMA exhibit: Don't! Photography and the Art of Mistakes.
Don't believe you must be a pictorial photographer... Bad pictorial photography, like bad "art painting," is a crime.
Don't plagiarize if you can help it. It can't give you any real pleasure to know yourself akin to a thief.
Don't believe you became an artist the instant you received a gift Kodak on Christmas morning.
Don't believe that experts are born. They are the results of hard work.
Don't go through life with your eyes closed, even though you may have chosen photography as your vocation. The machine may see for you, but its eye is dead. Your eye should furnish it with life. But don't believe that all open eyes see. Seeing needs practice - just like photography itself.
PS: Don't believe I claim any originality for the above random remarks.
From Photographic Topics 7, January 1909.
Try LinkedIn Learning Free for 30 Days
Access 13,000+ expert-led courses Watch as many courses as you like - there's no limit. Dozens of new courses added each week across business, tech and creative. Courses available in English, French, German, Japanese, and Spanish.
Get personalized course recommendations based on your current job, skills, and what professionals like you are learning.
Watch anytime on your computer or phone Easily access and watch courses from your desktop or mobile device. Apps available for iOS and Android.
Earn a certificate when you complete a course Show off the new skills you've learned on your LinkedIn profile by earning a certificate for each course you've watched.
Practice with exercise files and quizzes Validate what you're learning with quizzes within courses, and download exercise files so you can practice while you learn.
Download to mobile app for offline viewing Download and watch courses on the LinkedIn Learning mobile app for internet-free viewing.
Access LinkedIn's Premium Career features.
You can get started today by clicking on this link to start your 30 day free trial.
Updates and Such
Inner Circle Members: A big thanks to those who support our podcast and our efforts!
B&H and Amazon tiles on www.thedigitalstory. If you click on them first, you're helping to support this podcast. And speaking of supporting this show, and big thanks to our Patreon Inner Circle members:
And finally, be sure to visit our friends at Red River Paper for all of your inkjet supply needs.
See you next week!
More Ways to Participate
Want to share photos and talk with other members in our virtual camera club? Check out our Flickr Public Group. And from those images, I choose the TDS Member Photo of the Day.
Podcast Sponsors
Red River Paper - Keep up with the world of inkjet printing, and win free paper, by liking Red River Paper on Facebook.
Portfoliobox - Your PortfolioBox site is the best way to show off your best images.
The Nimbleosity Report
Do you want to keep up with the best content from The Digital Story and The Nimble Photographer? Sign up for The Nimbleosity Report, and receive highlights twice-a-month in a single page newsletter. Be a part of our community!
Want to Comment on this Post?
You can share your thoughts at the TDS Facebook page, where I'll post this story for discussion.