As music lovers continue to embrace vinyl, many are looking for an affordable, feature-rich turntable to augment their system. The Audio-Technica AT-LP60XUSB ($129) is the answer for many.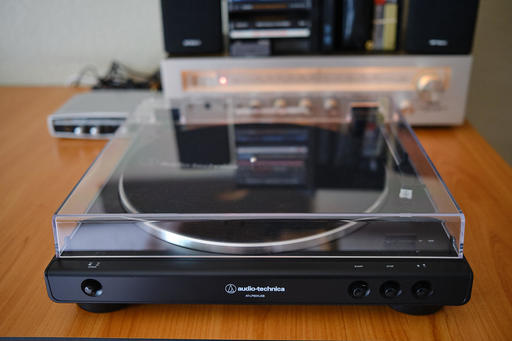 This Audio-Technica turntable has an impressive set of features:
Plays 33 1/3 and 45 rpm vinyl records
Fully automatic or manual operation
Built-in switchable preamplifier for phono- or line-level output
USB output to computer
Anti-resonance, die-cast aluminum platter
Dual Magnet phono cartridge with replaceable diamond stylus
AC adapter handles AC/DC conversion outside the chassis, helping to reduce noise in the signal chain
Removable dust cover
I've been using the AT-LP60XUSB for a couple months, and I love it. When I was researching turntables for my How to Get Started with Vinyl Records online course, it was the clear choice based on specs and price.
And after hours of use, I've found that it's also quite enjoyable to play. Personally, I like the automatic start and stop features. I don't have to worry about clumsy needledrops on a new album with the Audio-Technica, because it manages the tonearm with dampened ease.
If I need to reposition the stylus to play a different track, I can use the "tonearm up" control on the front-right panel of the device to gently raise the needle from the rotating record. Then I can move it to a new location and use the "tonearm down" button to softly lower it back to the vinyl. This makes playback safe and worry free.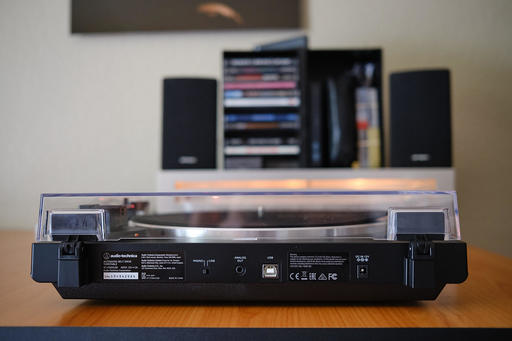 On the back of the turntable there's a pre-amp switch providing you with dual options. Switch it to "Phono" when connecting to a stereo amp, and turn it "Line" when connecting to a computer (phono preamp: 36 dB Nominal, RIAA Equalized) for digitizing. The unit comes with a cable to add the turntable to a stereo system, and you can use a standard USB cable for computer work.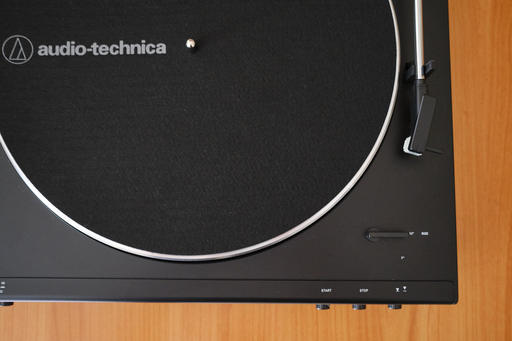 Other nice touches include the clear dustcover that raises up and down via back hinges, or can be removed all together. The felt record pad protects your albums. And if you do have 45s, the unit includes an adapter.
Audio quality is good. I'm guessing that higher-end models with more expensive cartridges provide better range, especially for the high end. But I've had good luck digitizing a variety of albums from early Beatles to Pink Floyd to Lorde. I recommend using Apple Lossless or FLAC as your digitizing format to help you get every ounce of quality out of the turntable.
Bottom line: The Audio-Technica AT-LP60XUSB is a great value for $129, especially for those getting started in vinyl music, or for those returning to it who want to enjoy their record collection again. Highly recommended!
How to Get Started with Vinyl Records
Take a hands-on journey with Derrick Story as he shows you how to set up a HiFi stereo system, add vinyl records to your music library, care for them, and finally, how to digitize the albums for personal listening.
Join him for the online course, How to Get Started with Vinyl Records.
Everything you need to know to get started with records, or to rekindle your love for vinyl LPs. Plus, you'll get 30-percent discount codes for digitizing software from Rogue Amoeba. The money you will save is more than you'll spend for the price of this training. What a great value!
Over the course of an hour, Derrick will show you:
All of the gear that you need to set up a HiFi system.
How to wire up and configure your kit.
Where to find records and what to look for.
How to take care of your vinyl so that it lasts a lifetime.
How to digitize your albums and add them to your digital music catalog.
Tips and tricks to enhance your enjoyment.
You can get started today by downloading this online course for $14.95. Included is the 1-hour video instruction movie with a PDF class notes that includes links to all of the hardware and software discussed in the training, plus the discount codes.
Discover the joy of vinyl music today!
You can share your thoughts at the TDS Facebook page, where I'll post this story for discussion.