I have collected many bluetooth speakers over the years so I can enjoy and share music when away from my home HiFi components. Usually, I will like one aspect (such as the sound), but not another, (such as the form factor). When I decided to try the Get Together Mini by House of Marley, I got everything I wanted in one package.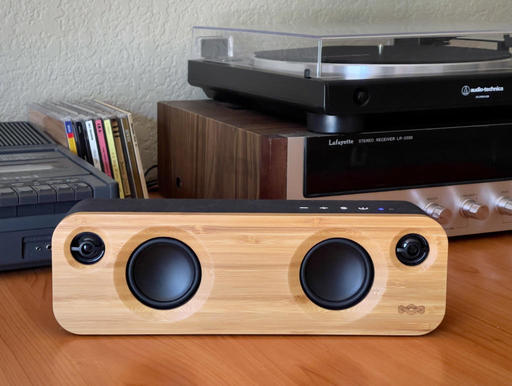 Really, Really Good Looks
By far, they are the most handsome portable speakers I've used. The outer case is a combination of natural, solid bamboo and unique "Rewind" fabric. Not only do they look great, they feel good when walking around with them in hand. (House of Marley builds eco-friendly products and ships them in 100 percent recyclable packaging.)
Excellent Sound
The Get Together Mini delivers on sound as well. I've been listening to Rebelution's latest album, In the Moment streaming from my iPhone to the speakers via bluetooth, and the music sounds amazing. Crisp, but not tinny, rich midtones and bass, but not muddy. I was sold on both the album and speakers immediately.
Plenty of Features
The Get Together Mini features:
2.5" Woofers, 1" Tweeters.
10 hours of playtime.
Bluetooth technology allows your device to be up to 45 feet away from the speaker while still maintaining connection. Compatible with iOS and Android.
Built-in microphone so you can use it as a speaker phone to take and make calls.
Auxiliary input jack allows you to connect it to record players, TVs, and other audio devices.
USB port that allows you to charge your phone and other USB devices.
Possible Issues
On the downside, some customers had complained that the mini-USB charging port had failed preventing them from refueling the rechargeable battery. I examined the port on my kit and gave it a good workout. So far it's holding up and seems solid. I have to say, I'm not a fan of mini-USB ports in general, and look forward to the day they are all replaced by the more dependable USB-C design. As for these speakers in particular, they seem solid.
One other user complaint was the audio cues that announce connecting and disconnecting from devices. I have other speakers that include this feature. I'm not a huge fan of the announcements either, but maybe I'm just used to them. You should be aware that House of Marley uses this technology as well.
Final Verdict
I'm hoping that my Get Together Mini speakers last a long time, because I really like them. They are super portable (the same width as my MacBook 13" laptop), sound great, connect easily, an look fantastic. You can buy the Get Together Mini by House of Marley for $149 with free shipping directly from their site.
Product Links and Comments
There are product links in this article that contain affiliate tags. In some cases, depending on the product, The Digital Story may receive compensation if you purchase a product via one of those links. There is no additional cost to you.
You can share your thoughts at the TDS Facebook page, where I'll post this story for discussion.