This is The Digital Story Podcast #848, June 21, 2022. Today's theme is "5 Tips for Photographers Who Shoot with iPhones." I'm Derrick Story.
Opening Monologue
I think it's safe to say that photographers approach their iPhone cameras just a little bit different than everyone else. And they are more likely to tap the software's advanced features. In that spirit, I have a show just for you, nimble photographer, who realizes the value of photography with any device, even the one in your pocket. I hope you enjoy the show.
Digital Photography Podcast 848
Tune-In Via Your Favorite Podcast App!

---

Apple Podcasts -- Spotify Podcasts -- Stitcher

Podbean Podcasts -- Podbay FM -- Tune In
5 Tips for Photographers Who Shoot with iPhones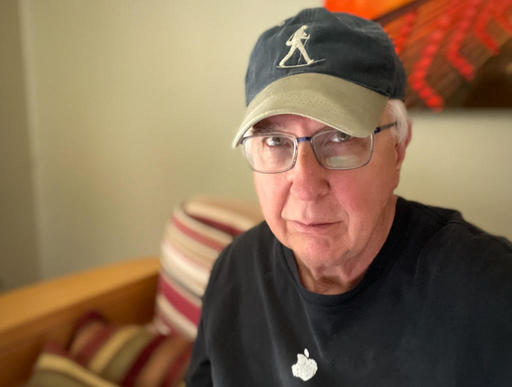 A One-Handed Selfie Shot captured with the front camera of an iPhone 12 Pro Max using Portrait Mode with a depth of f/2.8. Photo of Derrick Story by Derrick Story.
In my latest Medium article titled, My Favorite iPhone Portrait Tricks, I tell the story of me showing up at a family gathering without any of my mirrorless cameras. So I felt a little sheepish when asked to make a couples portrait.
Fortunately, I've had plenty of practice with my iPhone 12 Pro Max. And thanks to that knowledge, I pulled it off.
That got me thinking that this might be a good time to share some of my favorite techniques with you. So let's get right to it.
The Back Tap Camera Wake - A photographer's eye often detects decisive moments before others. To ensure that your camera reacts as quickly as you need, set up the Back Tap Camera Wake. Settings > Accessibility > Touch > Back Tap. There are lots of options here. I use the Double Tap for the Camera, and the Triple Tap for the Flashlight.

Angle Bracket Pointing Down - There's an angle bracket at the top of the camera interface, and it is usually point upward. Tap on it to angle it downward, and it will reveal an entire row of camera settings right above the shutter button, including proportions, flash controls, exposure compensation, self timer, and filters. If you're in Portrait mode, you can set the Depth f/stop here. In Time-Lapse, you can adjust the exposure there.

One-Handed Selfie Shot - Use the Volume Down button on the side of the phone to take a one-handed selfie shot. Start by switching to the front camera, then grip the phone in one hand with your thumb on the volume down button. Direct your eyes to the glowing green dot (that's where the camera is), then squeeze your thumb to take the picture.
You can use this technique in Portrait Mode, which is really cool, especially around f/2 for the Depth. Also, this is much easier with the case removed providing easier response from the volume button.

Lens Correction - The Ultra Wide Lens gets even better when you enable Lens Correction in the Camera Settings. You also have many other useful option here sun as View Outside of the Frame and Preserve Settings.

Long Exposure Trick - My all time favorite. Enable Live Photo, hold the camera steady right before, during, and after exposure. Then open the image in Photos, and choose Long Exposure fro the "Live" menu. You can also use this technique creatively by moving the camera before and during exposure.
I also recommend that you read my My Favorite iPhone Portrait Tricks on Medium.com. There's a really nice portrait workflow in that article that can serve you well in a pinch.
Tell a Friend
I was thinking the other day about how people love to tell me about their favorite podcasts, which I appreciate!
Then, I started thinking, we should be telling our friends about The Digital Story podcast. It's available on every service that's commonly used: Apple Podcasts, Google Play, Amazon, Spotify, and on and on.
If each or our regular listeners told just one friend about this podcast and encouraged them to listen, those should be substantial numbers.
So let's try it! Tell a friend about the TDS Photography Podcast.
Senators Want US to Follow EU and Adopt a Common Charging Cable
You can read the entire article on ThPetaPixel.com.
A group of United States senators has written a letter to the U.S. Commerce Department advocating that the country should follow the European Union's decision to force all electronics manufacturers to adopt a common charging cable.
Senators Ed Markey (D-MA), Elizabeth Warren (D-MA), and Bernie Sanders (I-VT) authored the letter to Commerce Secretary Gina Raimondo to argue for a standardized charging system. The three Senators say that the consumer electronics industry's largest players have hurt consumers by failing to establish a uniform charging accessory standard and forcing them to frequently change their charging accessories instead.
"This planned obsolescence is expensive and frustrating for consumers, and drives the proliferation of electronic waste," the senators write.
"The lack of interoperability standards for charging and other device accessories also results in e-waste and environmental damage. As specialized chargers become obsolete with the introduction of new products, or as consumers change the brand of phone or device that they use, their outdated chargers are usually just thrown away," the senators continue.
"When electronics are not disposed of properly, e-waste can spread toxins in water, pollute soil, and degrade the air we breathe. In 2019, humans generated a staggering 53.6 million metric tons of e-waste, and only 17 percent of this waste was recycled. Chargers that are discarded or never used create more than 11,000 tons of e-waste annually. This is a global issue, with a lasting impact on our environment and public health.7 The U.S. government must respond."
The three argue that the European Union (EU) has recognized this in the passing of legislation that requires manufacturers to adopt a common charger for electronic devices.
Tool Panel Redesign in Capture One Pro 15.3
You can read the entire article on TheDigitalStory.com.
One of my favorite aspects of the new 15.3 update to Capture One Pro 22 is the Tool Panel Design. I used this fresh look as motivation to clean up my entire Tools area.
Start by Removing Tool Tabs You Don' Need
First you want to clear up a little space at the top of the Tool Tab by removing any Tool Tabs that aren't part of your daily workflow. In my case, the Tether Tab is the first to go. I rarely use is, and I don't need it taking up valuable real estate.
Go to View > Customize Tools > Remove Tool Tab and select from the list the one you want to take off the top of the column. Keep in mind that this Tool Tab isn't deleted, just repositioned.
Also note that you can customize the tools within any tab. So if you want to remove the Refine Tab, but want Sharpening easily available, you could add that tool to another tab such as the new Quick Tab.
Customize Within the Tool Tabs
Once you get your basic categories set at the top of the Tools column, you will probably want to customize a few of the Tools within each tab. Open the Tab you want to modify, then go to View > Customize Tools > Add Tool to [selected] Tab. You can also remove tools as well to tailor each Tab exactly to your liking.
If you want to reorder the Tab icons at the top of the Tools column, hold down the Command key and drag the icon to its new location.
Save Your Workspace
It's a great feeling to get your Capture One Pro house in order. Now is the time to save your Workspace so you can return to it at any time. This is particularly handy if you have different workspaces for different workflows, or if you have multiple photographers using the same computer.
Click on the three vertical dots at the top of the Tool Tab column. Save the Workspace, and you're set. This is also where you can move the Tool Tabs column from one side of the interface to the other.
Top 10 E-M1X & E-M1 Mark III Menu Secrets
You can read the entire article on the GetOlympus site.
Here's one in particular that I liked, and it works with the OM-1 as well!
Low ISO Processing - On Custom Menu E1. Exp/ISO/BULB (E-M1 III and E-MX) you will find a feature called Low ISO Processing (on OM-1 it's Camera Menu 1, Low ISO Processing) with two options called Detail Priority and Drive Priority. A quick explanation is that when shooting at low ISO's, if we set this option to Detail Priority, the camera will prioritize image resolution and reducing noise, and in Drive Priority it will focus on frame rate (the number of images per second). So, for my camera bodies and/or custom modes that are set for landscape and macro photography, I choose Detail Priority since frame rate is generally not critical. For wildlife photography, I choose Drive Priority since frame rate is more critical and I am not always shooting at a low ISO.
Virtual Camera Club News
Have you been unsubscribed? A number of listeners have let me know that they were unceremoniously unsubscribed from the show. If that happens to you, just go back to the app and click on subscribe.
Inner Circle Members: A big thanks to those who support our podcast and our efforts! We are having a blast at our new Inner Circle hangout, the private group I've set up at DerrickStoryOnline. We'd love it if you join us. You can become an Inner Circle Member by signing up at our Patreon site. You will automatically be added to the new hangout.
My Writing on Medium.com: I now have 51 published articles on Medium.com. And if you haven't visited the site, and enjoy good writing on a variety of topics, I suggest that you may want to take a look. You can just go to the home page and enter "Derrick Story" in the search field. And if you like what you read, then follow me!
The New Donation Kit for Carefree Shipping of Found Film Cameras - If you've discovered a film camera that's no longer being used, our new Donation Kit makes it easy to pack and ship. Just visit the Contact Form on thenimblephotographer.com, click the box next to Donating a Film Camera, and let me know what you have. In your note, be sure to include your shipping address.
Affiliate Links - The links to some products in this podcast contain an affiliate code that credits The Digital Story for any purchases made from B&H Photo and Amazon via that click-through. Depending on the purchase, we may receive some financial compensation.
Red River Paper - And finally, be sure to visit our friends at Red River Paper for all of your inkjet supply needs.
See you next week!
You can share your thoughts at the TDS Facebook page, where I'll post this story for discussion.