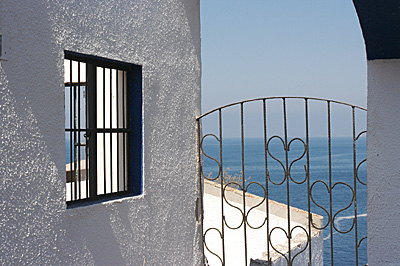 Puerto Vallarta was a quiet port town in the center of Banderas Bay, that is, until 1962 when director John Huston chose a piece of property on the southern end of town as the set for his Night of the Iguana. Thanks in part to Richard Burton and Liz Taylor having a torrid affair during this time, Puerto Vallarta suddenly became the center of Hollywood attention and regarded as a steamy tropical paradise destination.
I ventured out to where the movie was filmed with fellow photographer Ben Long. It's now an abandoned property that overlooks the bay. Apparently there were attempts to convert this location into a restaurant and resort. But, by the looks of the deteriorating buildings, those attempts failed.
This image is from a series I took while spending the morning there with Ben. We had the entire area to ourselves, which enabled me to quietly focus on shapes, color, lighting, and abstract compositions. We left the property on foot and walked through a few small villages before finding a resort hotel that had cabs back to town.
Technorati Tags: digital photography