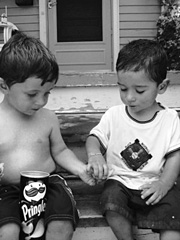 Photographer Geoff Hankerson says, "What signifies friendship more than sharing?" He captured this shot with a Canon PowerShot A70, then converted to B&W using the channel mixer in the GIMP.
Geoff's shot is one of eleven featured in this month's TDS Photo Assignment titled "Friends." You can see all the entries by clicking on the Read More link.
The Photo Assignment for April 2006 is "vertical." If you'd like your shot considered for publication, send it in by April 30. For more information, see our Submissions page.
====================================
Technorati Tags: digital photography
This month's Photo Assignment displays the work of 11 participants from The Digital Story community. The following shots are their interpretations of the theme, "friends." As anticipated, there are some pretty cute kids here... and a few surprises.



Geoff Hankerson


What signifies friendship more than sharing? Post processing: Converted to b&w using the channel mixer in the GIMP (100% on green channel). Then, I increased contrast using levels (eliminating the gap on the and right sides of the histogram) and curves (S curve). Canon PowerShot A70.



Richard Querin


I like the 'buddies' feeling of this shot with my daughter and the dog walking off to ponder things. I decided to selectively desaturate it for a more sentimental feeling. I took this shot with a Canon AT-1 with a 100-200 FD zoom lens at approximately f/5.6. It was shot on Kodak Gold 200 film and scanned on an Epson 2400 scanner. Desaturation, cropping and some dodging and burning were done with Photoshop Elements.



Jeramy Phillips


Just quick shot I took of one of my children with some puppies we were sitting. Olympus C750UZ




Rob Ternowski


These two girls caught my eye at my sister-in-law's wedding. The colors of the dresses and the big blue eyes of the girl on the left really stand out. If these girls had wings, they truly would be "Little Angels." HP 618



Jennifer Tofani


I spotted these two young men along with a few friends walking thru the park and approached them for this picture. I rapidly took many pictures while their friends kibitzed from the side-lines. This was bout the 4th picture. I later gave them all the good pictures from the series. Nikon D70, RAW.



Brad Immanuel


The shot was taken at Union Square in San Francisco with my Canon Digital Rebel XT. It was an unplanned shot and taken without any idea the reflection would show up so nicely. I merely wanted to shoot a shot of Lucas having a great time with the granite wall. When we were back home looking through the photos, my wife suggested I submit it for the Friends Assignment. Canon Digital Rebel XT




Magnus Nilsson


Here's a shot I took during a nice trip to the "pulka" slope... Pulka is equal to bobsleigh for youngsters as you see. The shoot is taken during the walk upwards, just before the ride... I use a Canon 350D, some areas are a bit burned, but the faces on Alva and Sam is what it's all about, true friends, waiting for the rush...



Stuart Murchison


I took this shot in Les Menuires, Les 3 Vallees, French Alps. As I was skiing down one of the many Black runs at the resort, where I should have been paying full attention to my descent of the mountain, my concentration slipped as I watched all these colourful skiers rise over the mountain edge, contrasting with the deep blue of the sky. So i pulled off the piste, got my camera out, then what do you know, lots of empty lift chairs! so I waited for the next colourful round of characters and eventually got this snap. Nikon D70



Muyi Abifarin


Took this picture with a Canon D20 at 200 mm (ISO 400, 1/1000). I was actually shooting my other daughter's soccer game when I saw my younger daughter with her cousin playing. The ISO and shutter speed are set so high because I had just turned away from the soccer game and would have missed the shot if I spent time changing settings.



BJ Thaman


I've been listening to the podcast for a few months now and decided to try an assignment. I just got an Olympus e-500 last week, and I am still trying to get the hang of it. I haven't used an SLR in about 6 years and the multi-point auto focus on the DSLR is definitely different than my Canon point and shoot. :-)



Louise Thompson


Friends Bethe and Jeff. Nikon D200, 1/2/sec, ISO 100, 18-200mm VR Nikon lens. I was testing the new camera out, could not get a focused shot for my life indoors without flash, but I ended up loving this shot anyway...
The Photo Assignment for April 2006 is "vertical." If you'd like your shot considered for publication, send it in by April 30. For more information, see our Submissions page.