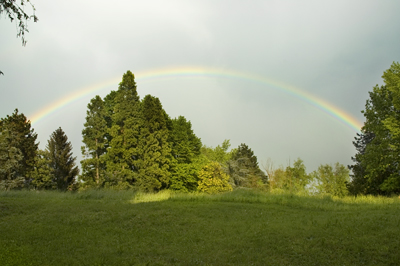 "Spring is really beautiful here in Italy," says Jennifer Tofani. "We get these April showers rolling in. This afternoon after one such shower, a friend called to give me a tip that a full rainbow had formed. I grabbed the camera and shot away at whatever the camera was set at. A few moments later it faded away."
Jen used a Nikon D70, RAW, Auto Exposure Mode (1/320 ay f/9), ISO 200, Focal Length 18mm.
If you have an interesting candid you'd like to share, take a look at our Submissions page, then send us your Grab Shot. If we publish it, you'll receive an ultra cool custom carabineer keychain.
Technorati Tags: candid, digital photography