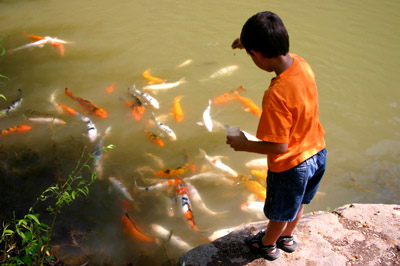 "While traveling in central Arkansas," said Jan Blanchard, "I was exploring a beautiful botanical garden and happened upon this scene. I wondered if the koi were attracted by the food or by the orange shirt on the little boy. The matching vibrant colors certainly attracted this photographer's eye."
Jan captured this scene with her Canon Digital Rebel set to 1/50 of a second at f-5.6. Her ISO was 100.
If you have an interesting candid you'd like to share, take a look at our Submissions page, then send us your Grab Shot. If we publish it, you'll receive an ultra cool custom carabineer keychain.
Technorati Tags: candid, digital photography, grab shot