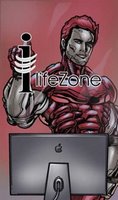 By popular demand, TDS readers have asked that I post the photo assignments on the web site as well as discussing them in the podcast. You got it!
The July 2006 photo assignment is "heat." It's summer, so let's fire things up and get those sizzling images turned in by July 31. I'll post the images on August 7 (a slightly longer lead time than usual because I'll be on assignment). If you have any questions about the details, visit our Submissions page. To see past winners, take a look at previous photo assignments.
On a different note, the second episode of the iLifeZone is now available in the iTunes Music Store.
Scott Bourne interviews Jason Snell of Macworld Magazine fame, plus we have an iTunes tip from Chris Breen, an introduction to iPhoto Library Manager by me, and a GarageBand goodie from Scott. It's a great show. I hope you have a chance to listen...
Technorati Tags: digital photography, podcast