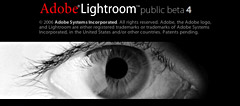 Adobe announced a minor update to its current beta version of Lightroom. This update, available now, includes the following:
- Resolves external editor conflict
- Corrects export orientation for constrained portrait images
- Resolves missing image error with large web galleries
- Provides Photo Binder platform compatibility on optical media
You can download beta 4.1 at the Adobe Labs site. It is available for both Mac and Windows users. This build expires on Feb. 28, 2007.
Technorati Tags: digital photography, software, The Digital Story