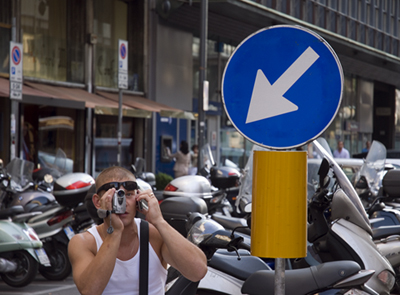 "Snatched this picture while in Milan," said Jennifer Tofani. I was thinking of it for the circle assignment, but it is really a grab shot even though it has all the circles. I just couldn't believe the blue arrow pointing to this guy with a video camera and on the phone. What a world."
Jennifer used a Nikon D200 in RAW mode, 1/130 at f/4.5. The ISO was set to 100. Focal Length was 70mm on the 18 -70 mm Nikon lens.
If you have an interesting candid you'd like to share, take a look at our Submissions page, then send us your Grab Shot. If we publish it, you'll receive an ultra cool custom carabineer keychain.
Technorati Tags: candid, digital photography, grab shot, The Digital Story