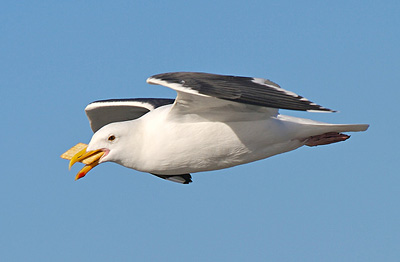 "I was on the Huntington Beach Pier recently when I spotted this bird flying by with something in its mouth, so I grabbed a few shots," said Allen Rockwell. "When I got home, I was able to see that it was carrying a whole cracker and was being careful not to crush it."
"It's shots like this that justify the cost of the Canon 100-400mm IS L lens!"
Allen used a Canon EOS 30D, exposure set to 1/500th @ f/8, focal length: 350 mm, ISO: 100
If you have a candid you'd like to share, take a look at our Submissions page, then send us your Grab Shot. If we publish it, you'll receive an ultra cool custom carabineer keychain.
Technorati Tags: candid, digital photography, grab shot, The Digital Story