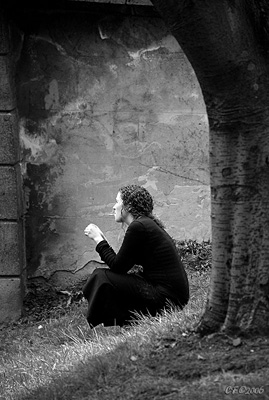 "I took this shot while walking along the river bank one Saturday afternoon," said Carlos Fernandez. "I noticed this cafe worker taking her smoke break on the river bank. She was oblivious to my presence which gave me time to frame up and grab the shot."
Carlos captured with a Nikon D80 at F5.6, 1/125, ISO 200, auto white balance, and 135mm focal length. Then converted the image to black and white.
If you have a candid you'd like to share, take a look at our Submissions page, then send us your Grab Shot. If we publish it, you'll receive an ultra cool custom carabineer keychain.
Technorati Tags: candid, digital photography, grab shot, The Digital Story
---
Sponsor Note...
You're Not Ken Burns -- But FotoMagico slideshows are so good that people will believe that he helped you.