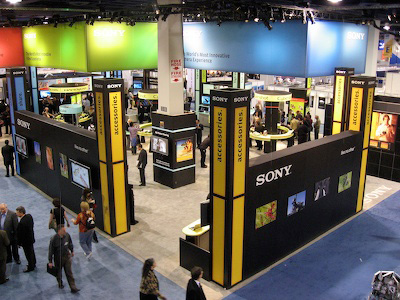 The show floor at PMA 2007 was a feast for photographers. All the major camera manufacturers were present in full color displaying their latest wares. But this show isn't just about the majors. Everything from high-tech plastic bags for underwater photography to gigantic printing machines were showcased.
In this podcast, I interview Kelly Turner, senior features editor for Macworld Magazine. Kelly has been one of the major proponents for bringing digital photography to the publication, and she is a very knowledgeable editor in this arena. She and I take a few minutes on the trade show floor to discuss the items that caught our eyes as we recap PMA 2007. It's a fun conversation that I'm sure you'll enjoy.
Monthly Photo Assignment
I also discuss this month's photo assignment, Self Portrait. I think it's time we get out from behind our camera and get in front of it. As with all of our assignments, I hope you add a creative twist to your approach. You can read more about how to submit on our Submissions page.
Listen to the Podcast
Now that I've piqued your curiosity, it's time to listen to today's audio show titled, "Las Vegas Wrap Up." You can download the podcast here (22 minutes).
Technorati Tags: digital photography, podcast, The Digital Story
---
Sponsor Notes...
Add Magic to Your Slideshows -- FotoMagico presentations are so amazing that your audience will be asking how you did it.