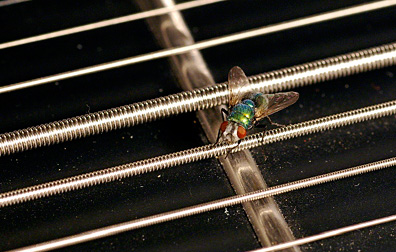 "I had just gotten my Chapman Stick back from the manufacturer, and I was taking pictures to put on my blog," said Eric Knapp. I had a bunch of hot lights set up and was using my favorite lens, a Tamron 90mm macro, on my Pentax *ist DS. I was concentrating on the fret work when this fly landed nearby. All I had to do was loosen the tripod and swivel a little to the right to take this shot and a few like it. What are the odds of this happening? I couldn't believe my luck and just had to submit it as a grab shot."
Here are the specs for the shot: Shutter: 1/60th, Aperture: f 6.7, Exposure: Aperture Priority, Focal Length: 90mm, ISO Speed: 800, Metering: Pattern.
If you have a candid you'd like to share, take a look at our Submissions page, then send us your Grab Shot. If we publish it, you'll receive an ultra cool custom carabineer keychain.
Technorati Tags: candid, digital photography, grab shot, The Digital Story