Pop Photo's Digital Days is a two-day event that brings amateur photographers together to learn new techniques and share experiences. The workshop travels from city to city in the US, with next stops in Seattle, Philadelphia, Chicago, and New Jersey. I was a guest speaker at the recent San Francisco event, and I talk about my positive experiences in this show. If you're looking to get together with other photographers to learn new techniques, then I recommend that you look at this tour. The entire weekend costs just $139, and that includes lunches and lots of goodies.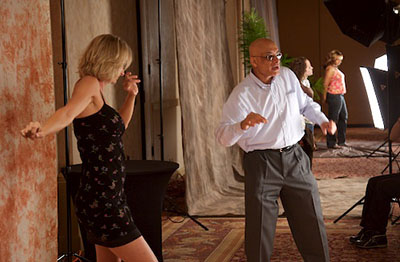 Event coordinator Phil Mistry working with models and attendees at the San Francisco Digital Days event. Photo by Derrick Story.
In this podcast, I also follow up with Colleen Wheeler to find out how her packing worked out for her trip to Ireland. Colleen reports on her experiences from that trip, including the family reunion.
Monthly Photo Assignment
I also discuss this month's photo assignment, Pattern. Keep your eyes peeled for the patterns that are all around us. You can read more about how to submit on our Submissions page. Deadline for entry is July 31.
Listen to the Podcast
Now that I've piqued your curiosity, it's time to listen to today's audio show titled, "Digital Days." You can download the podcast here (28 minutes). You can also subscribe to the podcast in iTunes
The Digital Story Podcasts are available for direct download from Apple iPhones. I've created a special mobile download page here. Just load the page in Safari, browse the podcast line-up, and click on the one you want to listen to.
Want to share photos and talk with other members in our virtual camera club? Check out our new Flickr Public Group. It's a blast!
Have you looked at the Park by the Numbers Camera Phone Project? If you have a camera phone, you've got to check this out.
Technorati Tags: digital photography, podcast, The Digital Story
---
Sponsor Notes...
Add Magic to Your Slideshows -- FotoMagico presentations are so amazing that your audience will be asking how you did it.