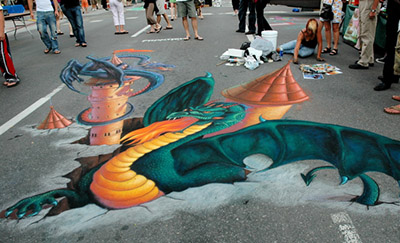 "Taken in July in downtown Denver, Colorado at the annual "Piazza del Arte" street fair, where artists spend two days for hours on end to create works of art with chalk on the street -- simply amazing stuff!" says Paul Leasure. "Took the photo in early evening under a nice cloud cover."
Paul used a Nikon D70s with his zoom set to 18mm. The settings were 1/200th at f-7.1.
If you have a candid you'd like to share, take a look at our Submissions page, then send us your Grab Shot. If we publish it, you'll receive an ultra cool custom carabineer keychain.
And you can view more images from our virtual camera club in the Member Photo Gallery.

Events! See the TDS Event Calendar for photography workshops, speaking engagements, and trade show appearances.
---
Technorati Tags: candid, digital photography, grab shot, The Digital Story