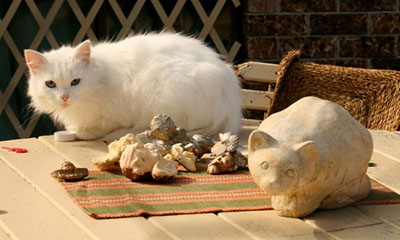 "I was walking my son home from pre-school when I saw this cat sitting on a table, alongside a pottery-sculpted cat in a neighbor's front yard," said Neville Jones. "I liked how they struck almost identical poses..."
Neville captured the shot with his Canon 400D and a EF-S 60mm f/2.8 macro lens -- ISO 100, Aperture Priority, f/13 at 1/80th of a second.
If you have a candid you'd like to share, take a look at our Submissions page, then send us your Grab Shot. If we publish it, you'll receive an ultra cool custom carabineer keychain.
And you can view more images from our virtual camera club in the Member Photo Gallery.

Events! See the TDS Event Calendar for photography workshops, speaking engagements, and trade show appearances.
---
Technorati Tags: candid, digital photography, grab shot, The Digital Story