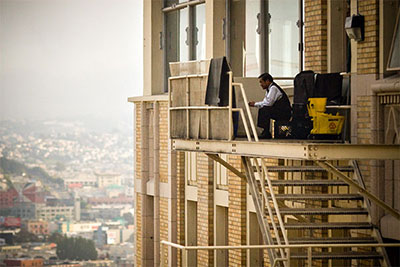 "Following in the footsteps of a recent grab shot," says Peter Norby, "I thought I'd throw this one your way, taken out my hotel room window after settling in from a long trip to San Francisco. I'm not sure if I'd want a job where I could take a break with a view like this or not."
Peter used a Canon 30D with a 135mm f/2 L telephoto. The gritty look was created in part by the ISO 1600 setting.
If you have a candid you'd like to share, take a look at our Submissions page, then send us your Grab Shot. If we publish it, you'll receive an ultra cool custom carabineer keychain.
And you can view more images from our virtual camera club in the Member Photo Gallery.

Events! See the TDS Event Calendar for photography workshops, speaking engagements, and trade show appearances.
---
Technorati Tags: candid, digital photography, grab shot, The Digital Story