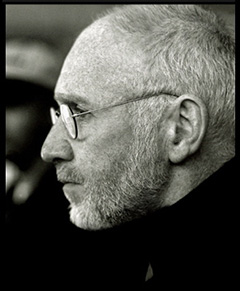 Even perusing just a
snapshot of Albert Watson's career
, you quickly realize that he's not the typical New York fashion photographer (more than 250 covers of Vouge Magazine alone). Yes, since the 1970s, Watson has photographed numerous high-profile models and celebrities. But he's also applied his talent and experience to create a body of fine art imagery that explores the breadth of his medium, leading Watson to be named one of PDN's "20 Most Influential Photographers of All Time."
Watson's work lined the gallery walls in the HP booth at PhotoPlus Expo 07, and he was the feature presentation on Friday night, "Albert Watson: Meet the Master." HP contacted me before the show asking if I'd like to interview Albert during my stay in New York. I immediately accepted and met with him Thursday afternoon in a conference room at Javits.
We began our conversation by discussing the wedding of Prince Andrew and Sarah Ferguson, the only wedding he's ever covered. At first Albert was hesitant to talk about the event. But I wanted to know how a high profile fashion and art photographer prepares for a royal wedding, and this is where our conversation begins.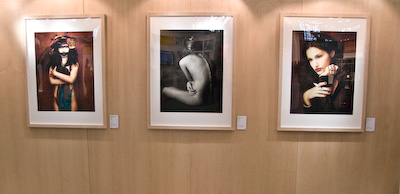 A few of Albert Watson's prints hanging in the HP booth at PhotoPlus Expo.
I recorded the podcast in stereo to give you a better feel for the room. Plus, I didn't want to push a microphone in Albert's face; rather, I wanted him to feel free to gesture and use his body to illustrate his points. I decided to leave the podcast in stereo (instead of sampling down to mono) to retain this ambience. The result is a bigger file, but one that I think puts you right there at the table with Albert Watson and myself. I jokingly call this the Special Headphone Edition of The Digital Story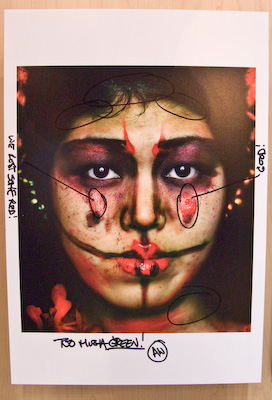 Albert Watson annotations from a print in progress.
Special thanks to HP, who arranged the interview and were gracious hosts for both Albert and myself.
Monthly Photo Assignment
Close Up is this month's photo assignment. Time to find that close up button on your compact or break out the macro lens for your DSLR. October is get close month, real close. You can read more about how to submit on our Submissions page. Deadline for entry is Oct. 31.
Listen to the Podcast
Now that I've piqued your curiosity, it's time to listen to today's audio show titled, "Albert Watson, Photography Legend." You can download the podcast here (28 minutes). You can also subscribe to the podcast in iTunes
The Digital Story Podcasts are available for direct download from Apple iPhones. I've created a special mobile download page here. Just load the page in Safari, browse the podcast line-up, and click on the one you want to listen to.
Want to share photos and talk with other members in our virtual camera club? Check out our new Flickr Public Group. It's a blast!
Have you looked at the Park by the Numbers Camera Phone Project? If you have a camera phone, you've got to check this out.

Events! See the TDS Event Calendar for photography workshops, speaking engagements, and trade show appearances.
---
Technorati Tags: digital photography, podcast, The Digital Story
---
Sponsor Notes...
Add Magic to Your Slideshows -- FotoMagico presentations are so amazing that your audience will be asking how you did it.