This week, I reach down into the photo goodie bag and pull out a few treats for the Halloween season. Sweets include: adding metadata to your images so people know who took the photo and its copyright status, my camera gear kit for an upcoming trip to the Caribbean, an update on Mac OS X Leopard for photographers, and a few publishing notes for November.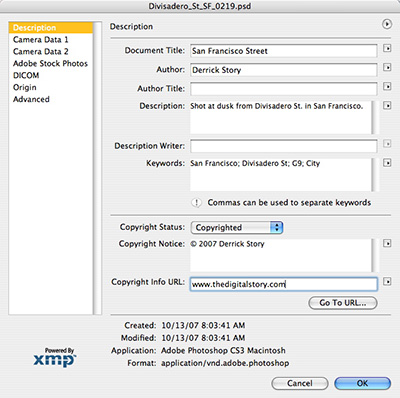 File description fields in Photoshop that enable you to add metadata to your images.
Monthly Photo Assignment
Close Up is this month's photo assignment. Time to find that close up button on your compact or break out the macro lens for your DSLR. October is get close month, real close. You can read more about how to submit on our Submissions page. Deadline for entry is Oct. 31.
Listen to the Podcast
Now that I've piqued your curiosity, it's time to listen to today's audio show titled, "Trick or Treat." You can download the podcast here (29 minutes). You can also subscribe to the podcast in iTunes
The Digital Story Podcasts are available for direct download from Apple iPhones. I've created a special mobile download page here. Just load the page in Safari, browse the podcast line-up, and click on the one you want to listen to.
Want to share photos and talk with other members in our virtual camera club? Check out our new Flickr Public Group. It's a blast!
Have you looked at the Park by the Numbers Camera Phone Project? If you have a camera phone, you've got to check this out.

Events! See the TDS Event Calendar for photography workshops, speaking engagements, and trade show appearances.
---
Technorati Tags: digital photography, podcast, The Digital Story
---
Sponsor Notes...
Add Magic to Your Slideshows -- FotoMagico presentations are so amazing that your audience will be asking how you did it.