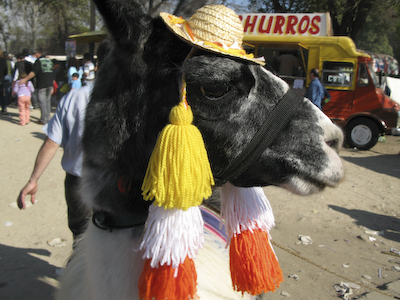 "Dia de Patria, Santiago, Chile -- Figured I´d stroll around and find a festival," said Capn Scott. "I ended up in Parque O´Higgins… Yep.. a good old irish name for a spanish park… (though, doesn´t beat the chinese restaurant in David named Don Jose). There had to be over 10,000 people here. And yes, I want one of these."
Capn Scott used a Canon PowerShot G7 ("Didn´t want to break out the 20D in a crowd of 10,000") set to 1/80th at f-4.0 with the zoom on its widest setting (7.4mm).
If you have a candid you'd like to share, take a look at our Submissions page, then send us your Grab Shot. If we publish it, you'll receive an ultra cool custom carabineer keychain.
And you can view more images from our virtual camera club in the Member Photo Gallery.

Events! See the TDS Event Calendar for photography workshops, speaking engagements, and trade show appearances.
---
Technorati Tags: candid, digital photography, grab shot, The Digital Story