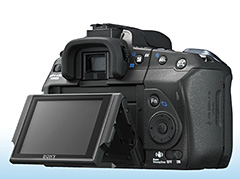 I stopped by the Sony booth at PMA 2008 to test the Sony alpha A350 DSLR (available as preorder for $899.99 US with 18-70mm lens on Amazon). What intrigued me most about this camera was the combination of Live Preview and a tiltable 2.7" Clear Photo LCD Plus screen. The screen angles upward for low angle shooting and downward for capturing shots while holding the camera over your head. You can also press it flush against the back of the body.
This opens up additional shooting possibilities for DSLR fans who weren't previously able to compose shots at extreme high and low angles. Plus, if you're working on a tripod, you can position the screen for your most comfortable viewing angle regardless of its shooting height.
I tested the Live Preview and it worked well, however, moving subjects weren't as smooth as I had anticipated. Since this is a still DSLR and not a camcorder, I don't see that as a huge drawback.
Other specs are impressive too: 14.2 MP Super HAD CCD sensor, up to 3200 ISO, CCD based stabilization for any lens mounted on the camera, robust battery, anti-dust technology, 9-point center cross AF sensor, and dual media slots for Memory Stick PRO Duo and CompactFlash.
The camera felt good in my hands and is quite light, making all day shooting treks less straining on the neck and back. I'll keep an eye out for follow up reports once the production model hits the streets in late April. But I think Sony has taken another positive step forward with this advanced consumer DSLR body.
Technorati Tags: digital photography, Technology, The Digital Story, Sony A350