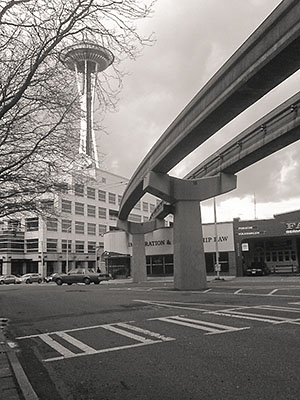 "After lunch a few blocks from work, I saw this tempting view of the Space Needle and the Monorail," said Hai Vu. "Too bad, I didn't have a camera with me, so my cell phone had to do. I fixed up the image in Lightroom and converted to B&W with a hint of yellow for an old picture look."
Hai Vu used a Sony Ericsson W810 cameraphone to capture this image. I happen to have that phone too, and it takes surprisingly good 2-megapixel images, as this shot will attest. As I've said a hundred times before, the best camera in the world is the one you have with you. Nice shot!
If you have a candid you'd like to share, take a look at our Submissions page, then send us your Grab Shot. We'll try to get it published for you on The Digital Story.
And you can view more images from our virtual camera club in the Member Photo Gallery.

Events! See the TDS Event Calendar for photography workshops, speaking engagements, and trade show appearances.
---
Technorati Tags: candid, grab shot, The Digital Story