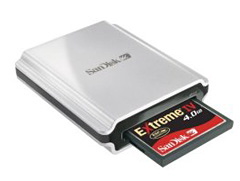 Want to know the fastest memory card to buy for your Canon 40D, Nikon D300, and a host of other DSLRs? Rob Galbraith's CF/SD Performance Database is a collection of memory card write speed results from Canon and Nikon DSLR cameras. You'll also find card-to-computer transfer results for the latest CompactFlash cards, with more CompactFlash and SD/SDHC results to be posted soon.
The Card-to-Computer Transfer Speed section is new, and really interesting to pour over to see the best combinations for readers and memory cards.
If you want the best read/write performance with your DSLR, I'd bookmark this page and refer to it before purchasing new memory.
---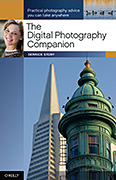 Now Available! The Digital Photography Companion. The official guide for The Digital Story Virtual Camera Club.
25 handy and informative tables for quick reference.
Metadata listings for every photo in the book
Dedicated chapter on making printing easy.
Photo management software guide.
Many, many inside tips gleaned from years of experience.
Comprehensive (214 pages), yet fits easily in camera bag.
---
Technorati Tags: digital photography, equipment, Technology, The Digital Story, memory card