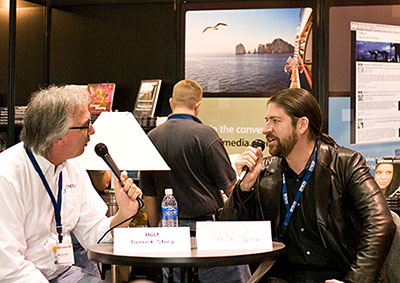 Here's a fun interview to listen to. A few weeks ago, while I was working in Orlando at Photoshop World, I had a chance to visit with photographer and fine art printing expert John Paul Caponigro. One of John Paul's passions is the Epson Print Academy, and he gives us an inside peek in the Academy from color management to fine art workflow.
Speaking of color management, I love one of JP's comments about it: "Yes it is rocket science, but you don't need to be a scientist to drive a rocket." He believes that color management can be comprehensible and brings this belief to his teaching.
Finally, I just had to ask JP about his favorite printing surfaces. Usually I ask photographers about their camera equipment. But since John Paul is equally well known for his fine art printing, I thought we'd go that direction instead.
You can download the MP3 file here.
Photo by Colleen Wheeler.
---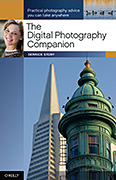 Now Available! The Digital Photography Companion. The official guide for The Digital Story Virtual Camera Club.
25 handy and informative tables for quick reference.
Metadata listings for every photo in the book
Dedicated chapter on making printing easy.
Photo management software guide.
Many, many inside tips gleaned from years of experience.
Comprehensive (214 pages), yet fits easily in camera bag.
---
Technorati Tags: digital photography, Digital Photography Companion, Printer, Technology, The Digital Story