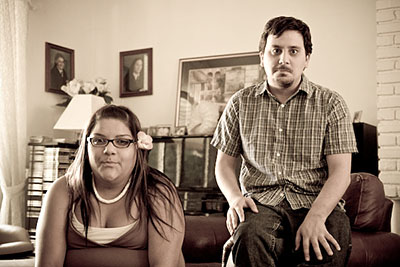 "This is my brother and his girlfriend," writes Robert Gaddy. "With camera in hand, during a lull in conversation, I quickly raised it and took this grab shot just as they began to give me their look of disapproval. My wife said it reminded her of the American Gothic painting."
Robert captured this classic shot with a Canon 30D, ISO 800 in Aperture Priority mode (f-2.8 @ 1/25th sec). His focal length was a relatively close 31mm. Flash was off.
If you have a candid you'd like to share, take a look at our Submissions page, then send us your Grab Shot. We'll try to get it published for you on The Digital Story.
And you can view more images from our virtual camera club in the Member Photo Gallery.

Events! See the TDS Event Calendar for photography workshops, speaking engagements, and trade show appearances.
---
Technorati Tags: candid, digital photography, technique, Technology, The Digital Story