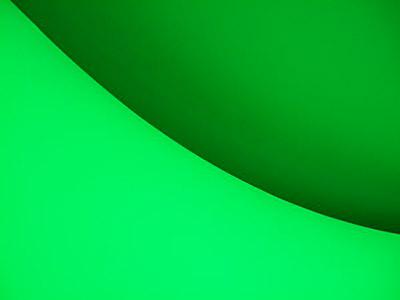 "Saw your post about making the most of scene modes," said Eric Marin, "and had to send some shots from my trip to the Museum of Modern Art in New York."
"As you'd guess, I had my compact Fuji in "museum" mode, and I was pretty happy with these results. This first shot is a ceiling view of a light installation by Danish artist Olafur Eliasson. A large ring in the middle of the room gradually changed colors, and I caught a glimpse of the green end of the cycle."
Eric recorded this beautiful shot at 1/200th @ f-2.8 using the Museum Scene Mode on his FinePix F20. The ISO was set to 200.
If you have a candid you'd like to share, take a look at our Submissions page, then send us your Grab Shot. We'll try to get it published for you on The Digital Story.
And you can view more images from our virtual camera club in the Member Photo Gallery.

Events! See the TDS Event Calendar for photography workshops, speaking engagements, and trade show appearances.
---
Technorati Tags: candid, digital photography, technique, Technology, The Digital Story