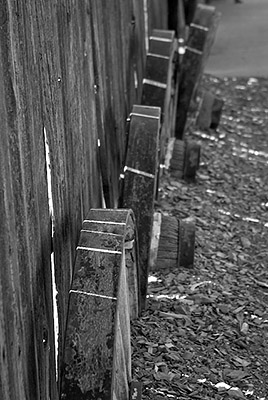 "I took this while on a photo outing with the Denver Photographic Society," writes Mark Castleman. "I found the pattern of the old wheels stuck in the ground interesting, and the texture lent itself to something more artistic. I converted the image to B&W in Apple's Aperture and used the red filter to bring out the texture more while increasing the contrast some."
Mark used his Pentax K10D in aperture priority mode, 1/30 @ f/5.6, with the ISO set to 100. His lens focal length was 55mm.
If you have a candid you'd like to share, take a look at our Submissions page, then send us your Grab Shot. We'll try to get it published for you on The Digital Story.
And you can view more images from our virtual camera club in the Member Photo Gallery.

Events! See the TDS Event Calendar for photography workshops, speaking engagements, and trade show appearances.
---
Technorati Tags: Aperture, candid, digital photography, grab shot, Pentax, Technology, The Digital Story